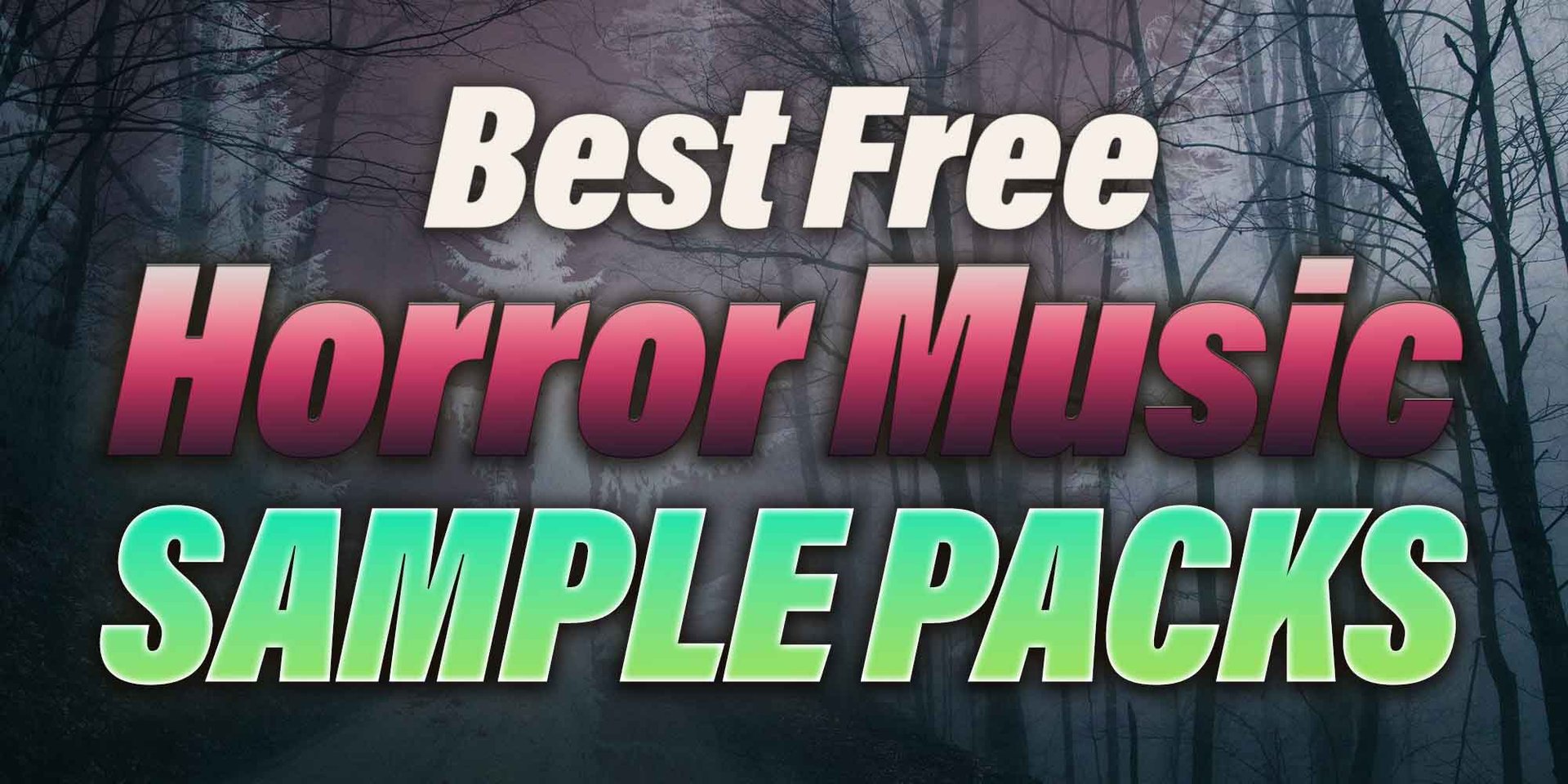 5 Best Horror Music Sample Packs
Perhaps you've just rewatched your favourite scary film and got the urge to download a horror music sample pack and make some eery music.
| | |
| --- | --- |
| Sample Pack Name | Price |
| | $29 |
| | $60 |
| | $59 |
| | $25 |
| | $39 |
I have compiled my 7 best horror sample packs (most paid) as-well as 6 pack completely
Construction Kits, wav loops, 808's, modular synths, FX pedals, etc.
Plenty of content for even the most experienced music producer.

Long, dark drones, metallic cutting Arps, hyped backward ambiances, and distorted orchestrals are all included.
It was influenced by the works of Fetty Wap and other artists.
This collection has everything for any composer who wants to give their instruments, tunes, and cues a gory twist.
The Masters Of Horror sample pack contains:
83 WAV Loops
24-Bit WAV
15 Fully Mixed Loops
68 Stems (Track Separation)
Bpm & Key Labelled
975 MB Of Content
100% Royalty Free
939 MB of Content (Zipped)
"Spooker" VST ($60.00)

This is perhaps the most reliable VST in the market for producing horror sounding music.
Horrors sounds have been taken to a new level with this VST.
The Spooker VST contains:
Stand Alone VST
50 Presets
Spookiness FX Dial
PC (32 Bit & 64 Bit)/Mac (AU & VST) compatible
3 GB Content Zipped
"Asylum" Horror FX Sound Pack ($11.95)

Freaking Scary EDM Voices' by Function Loops is a Halloween-themed collection of unique, spooky samples.
To add a horror edge to your project, use these demonic sounds!
Useful not just for Trap music or metal, but also in a variety of sombre musical genres or simply to inject some levity into your work.
The Freakin' Scary horror pack contains:
Horror Trailer Sound Library
All Files in 96k 24-Bit WAV Format
500+ Files
1+ Hour of Sound
Unheard of Screeches, Shockers
Sinister Drones, Stingers
Full Bodied Hits, Impacts
Dynamic Risers, Whooshes
Ghostly Groans, Moans, Creaks
Psychotic Textures, Movements
2.04 GB Download File Size (Zipped)
2.31 GB of Content (Unzipped

Need a little gloom to your Trap and Hip-Hop fusion music?
Greetings, and welcome to Dark Trap Keys!
Inspired by the likes of Lil Uzi Vert, Pop Smoke, Pop Durk, and Lil Durk.
This collection of dark lo-fi keys will give lots of dark ambient piano to those nasty hard hitting rhythms!
All the spring reverb and eq in the world weren't enough to give these loops the weight and character they needed, so they used analog and digital saturation to get the current lo-fi sound.
The Grave Diggers sample pack Contains:
5 Construction Kits
24-Bit WAV Format
67 Individual Loops
73 Midi Files
Tempos Available
100% Royalty-Free
411 MB Download File Size (Zipped)
539 MB of Content (Unzipped)
Take advantage of Dark Trap Keys now by dragging and dropping these samples into your chosen DAW of choice.
"Crate Diggers" Scary Sound Effects (FREE)

You should avoid going to these areas during certain times of the year, such as Halloween.
If you play to make a horror music score or do spooky sound design - this is THE kit for you!
One of my favorite packs on this list!
The Crate Diggers horror pack contains:
24-Bit WAV




• 424 MB of Content




• 100% Royalty-Free




• 17 Full Instrumental Tracks

Sound effects are inspired by current horror video games, television programs, and films.
Includes everything from menacing drones and ambiances, to big impacts and hits, unique abstract sound effects, hair-raising transitions, booms, noises, glitches, and much more.
Everything you need to create a thrilling and horrifying masterpiece!
As a dark cinematic edge may be added to any genre and is particularly perfect for media projects and musicians, the Pack is an excellent choice.
To make things as simple as possible, each of the drones and effects has a key labeled on it.
The Trepidation sample pack Contains the:
137 Abstract One-Shots
152 Reverses
100 Hits
74 Tonal Drones
67 Ambiences
49 Atonal Drones
43 Tonal One Shots
30 Risers
22 Sub Booms
2 Construction Kits made up of 22 Stems
19 Loops
Free Horror Sample packs

Top 6 Free Horror Sample Packs
Following are 6 absolutely amazing horror sample packs that are completely free to download and use in your next production.
"Horror VOL. 1" Horror Sounds pack (FREE)
The first volume of an important collection of horror sounds, spanning everything from scary ambiances to cries of panic to savage assaults.
This pack is highly recommended for those breaking into the horror music niche.
The Horror Vol.1 sample pack contains:
one-Shots
Loops
royalty-free

Everything from jump scares and impacts to creepy ambiances and exhilarating sounds may be found in this collection of Halloween Sound Effects.
A few whooshes and tension-builders were also thrown in, as well as some monster and ghost sounds.
The Halloween SFX sample pack contains:
60 royalty-free horror sound effects
14 Atmospheres
5 Impacts
41 Sound Effects

MixKit is really blessing the niche with these high-quality free horror sound effects.
Absolutely have no complaint with these sounds... highly recommended!
The MixKit horror sample pack contains:
31 Horror sound effects

monster vocals
"Epic signature" Horror Sound Effects (FREE)

"EpicSoundEffects" have released these insane quality samples as a snippet version for their larger horror pack called "AVERSION".
These sounds will blow your mind... includes DRUM LOOPS, VOICE, RISER, BRAAM, HITS, RATTLE and more
This Horror SFX sample pack contains:
Drum Loops
Vocals
Risers
royalty free

This category includes noises that are both repulsive and frightening, including bone fractures, blood and stomach drips, and splats.
Even if it's a pain to record, it's worthwhile.
As a result, a significant amount of work went into the creation of frightening effects.
Such as creepy drones, ominous environments, and dungeons.
These are all perfect for horror film trailers and feature films.
Zombie, beast, and vocalization sound effects, as well as grunts, growls, and moans, abound in our library.
The Zapsplat sample pack Contains:
Atmospheric Textures
Ghost sounds
Zombie Vocalizations
Royalty-Free
"TheWarehouse" Free sample packs (FREE)

Recorded at an old military storage facility in the United Kingdom, the Warehouse contains a variety of sound effects.
Atmospheric acoustics were used to record several of the sounds.
Both as percussion and as sound effects, the sounds are readily adaptable.
When used as organic percussion sound layers on top of drum loops, most of them perform quite well.
The examples of an electric lift in the library are my favorite, and they practically demand to be utilized in a Transformers-style movie.
The Warehouse sample pack Contains:
Join The #1 Platform For Music Artists.
We're starting a revolution - and putting music artists (like you) first.
Boost Collective is a free-forever music distribution platform. Upload unlimited releases to 150+ stores and platforms and keep 100% of your earnings.
You'll also get free playlist promotion, cover art creation, and much more!
Join Boost Collective for free here.