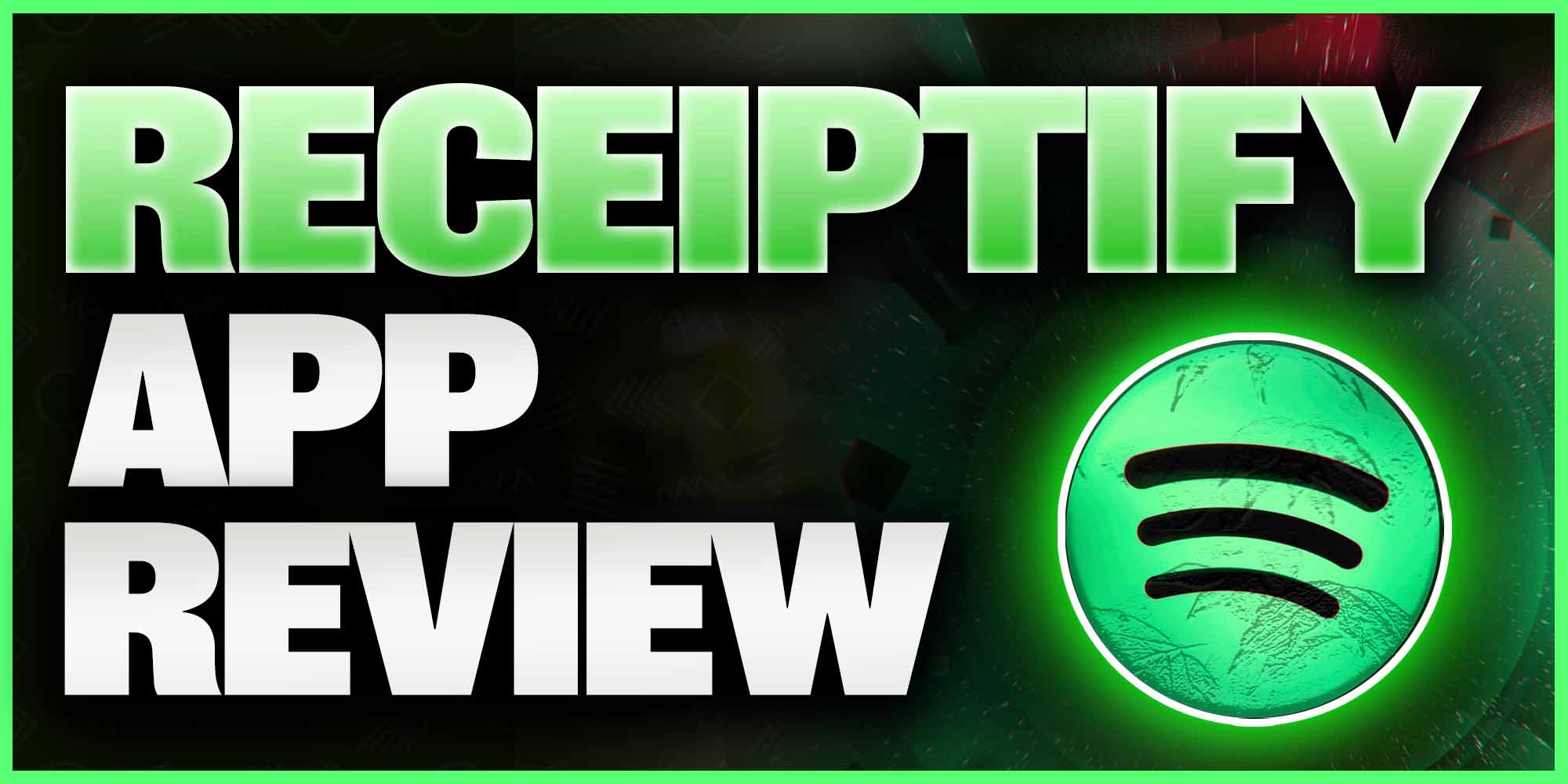 What is Receiptify?
So what is receiptify?
Receiptify is a "top track generator" - that compiles data your the last six months of played songs. It's presented in the form receipts, hence the name.
The features included on the app include:
Spotify integration

Apple integration

Top 10 favourite tracks

User sharing
How to Use Receiptify (Updated 2022)

The app is really easy to use!
How to use the Receiptify app:
Go to the Receiptity website

Select either Spotify or Apple

Sign in with your account

Select a time period (past month, six months, all time)

Download image of receipt
You can sign in and out easily so you can see multiple accounts.
Want to distribute your music to Spotify for free? Use Boost Collective's free music distribution platform! Distribute unlimited songs to 150+ stores/platforms, and protect your content with Content ID - while also keeping 100% of your earnings. Use this upload form to distribute your single now:
Boost Collective is the #1 trusted source of music distribution for artists - You can protect your content and earn royalties whenever it is being used. Enjoy!
How accurate is receiptify?
Is the app accurate?
What would be the point of an app if it's not accurate...
So here are the results from my most recent Receiptify queries.
I'll verify FOR YOU whether the app is rubbish or a true gem.
Receiptify data is taken straight from Spotify's servers, then fed back to you on the display screen. There isn't room for error.
Receiptify Last Month

Receiptify Last Month is the key feature of the app.
This tool compiles your top listened tracks, and then organizes them in the form of a receipt.
Receiptify Last Month goes viral, and so many people share it on the web!
I recommend every person to try Receiptify Last Month at least once.
This way you won't have to wait so long for Spotify Wrapped.
Receiptify Six Months

Now here is Receiptify Six Months.
As you can see from the screenshot...
Receiptify allows you to look back on 6 months of data.
The numbers look very accurate on this end as well!
You can see the song's duration as well as ranking.
Does Receiptify Work For Apple Music?

Will Reciptidfy also work for Apple?
Yes, Receiptify does work for Apple as well. If nothing happens when clicking "Apple Music" then you must first allow pop-ups in Safari (iOS.)
It's a very simple process.
How to enable pop-ups in Apple
Go to the Receiptify site

On the settligns bar tap Safari -> Preferences -> Websites

Press "Pop-up Windows" at the bottom of menu

Tap "Allow"
Once all these steps are taken, you're good to go!
The cool thing about Receiptify Apple music is that... There is not good alternative.
Receiptify for Apple Music does something that no other app can do!
Think about it... There is no Apple Music Wrapped (the closest is Replay) but it does not do a very good job.
Receiptify Doesn't Work?
Sometimes computers don't do what we want them to.
If Receiptify is not working for you, there are a few reasons:
Pop ups aren't enabled on your browser

Your Spotify account isn't working

Server connection errors
In most cases, you can just reset your wife or computer.
If Receiptify does not work for Apple Music, then you can restart your phone.
At that point, you can sign in and se your top songs.
Since Apple Music has very good security, you need to make sure you see the Receiptify Apple prompt to get it working again!
Is There Receiptify For Deezer?
I have some news for you.
Sadly, Deezer is currently not a supported platform for getting your stat receipt.
Perhaps this may become a feature in the future.
Receiptify YouTube Music

There is no Receiptify YouTube Music that exists.
YouTube does not appear on Receiptify, instead, you can find your watched video in history.
This has some limitations though.
The negatives of not having Receiptify YouTube Music:
Doesn't show if you replayed a video

Shows non-music related videos

Sometimes isn't even turned on
Check this out, for some of you it's just as good as Receiptify YouTube Music.
Watch the video below for more clarity. 👇
Is Receiptify Safe?
Is it safe to use Receiptify?
Yes, Receiptify is 100% safe. The connects with your Spotify account through the official API built by Spotify, so your personal information is secure.

The info about your listening habits comes from Spotify alone.
Recieptify does not have access to any other forms of data in your device (images, messages, apps, etc) providing that Receiptify is safe.
You can see the permissions users share on the opt-in page.
Only tracks and public information is shared.
Rest assured, the question "Is Receiptify safe" is answered with a big fat YES.
Is Receiptify Legit?
So, is Receiptify a legitimate site?
Yes, Receitpify is legit. All the played songs you on the Receptify website come directly from Spotify - so there is 100% accuracy.
I'm still amazed at how far back the time periods are.
5 Best Receiptify Alternatives

Spotify Wrapped is the best Receiptify alternative for collecting top tracks data. Unfortunately, it's only available once a year.
For access during all time periods for top tracks - use the app.
Here are the five good Receiptify alternatives to try out:
For many of these apps, you can only sign with your Spotify account.
None of your Apple Music tracks are shown.
The details of the receipts are really detailed, so I prefer to see my songs there.
Who Created Receipty?
You may be surprised by the origins of your favourite Spotify app.
The Receiptify app was created by Michelle Liu as as University Project that took steam.
On the Receiptify site you'll see her contact info.
The Instagram Account That Inspired It All

This is a really cool project!
Log into the gram, and check out the @albumrecipts profile.
The Receiptify website was inspired by this Instagram.
You'll see receipts for all top tracks. 👇
They've garnered over 150k followers and it's not stopping!
Is There receiptify for Album?
Is there Receiptify for albums?
Receiptufy only tracks your most listened to songs, not albums. If you listen to an album's tracks on repeat then the individual tracks may appear, with less listened to track being omitted.
Want your Receiptify album to show up?
Go ahead and listen to albums on repeat!
Heroku: How Receiptify was Created
As you log into the site, you'll notice the URL is interesting.
It's hosted on the Heroku cloud platform.
This allows startups to run their code and distribute apps across the web.
If you're interested in hosting code, just press here.
Join The #1 Platform For Music Artists.
We're starting a revolution - and putting music artists (like you) first.
Boost Collective is a free-forever music distribution platform. Upload unlimited releases to 150+ stores and platforms and keep 100% of your earnings.
You'll also get free playlist promotion, cover art creation, and much more!
Join Boost Collective for free here.