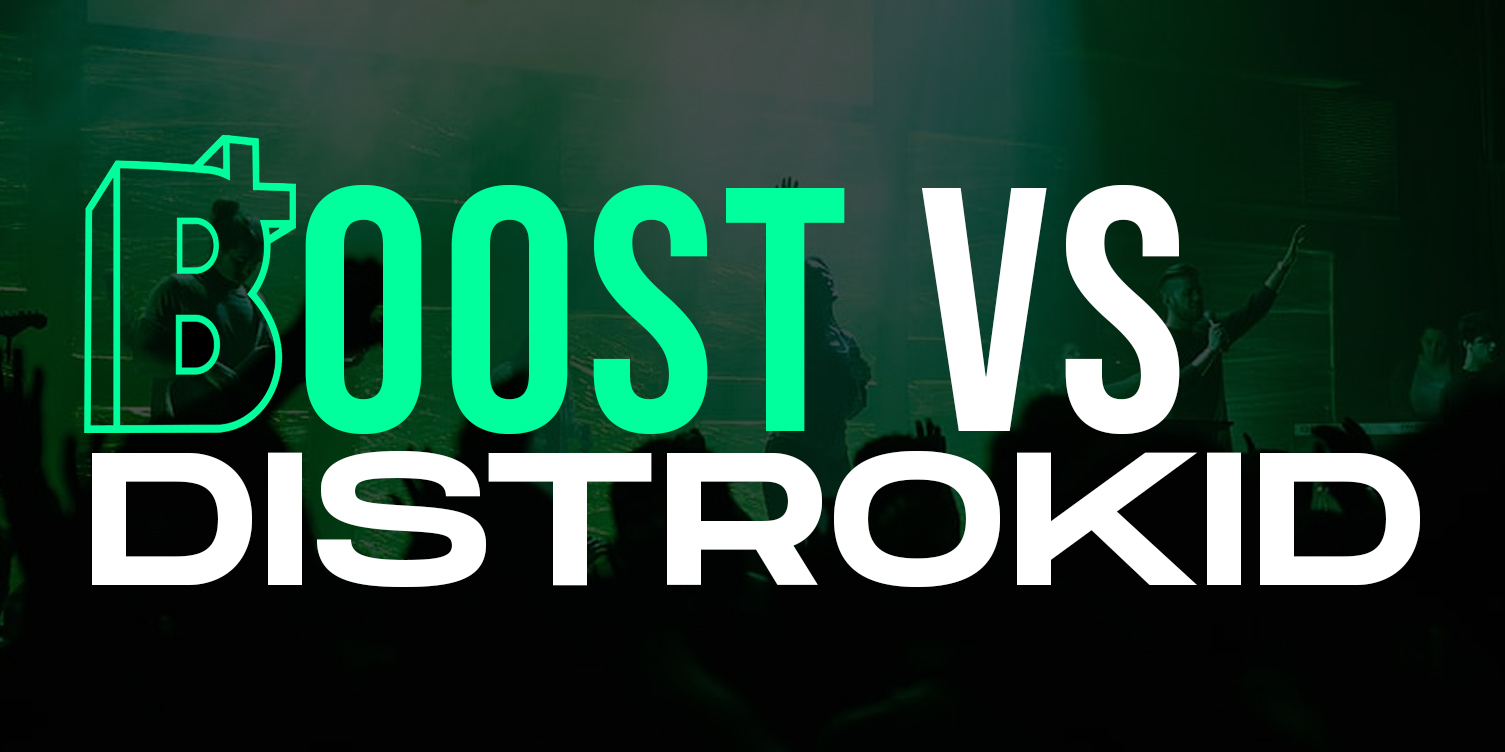 Are you an artist looking for the best way to distribute your music across the internet? Maybe you're skeptical of Boost Collective, and want to compare it to Distrokid?
Well, you're in luck!
In this article, we'll break down exactly how Boost Collective works, as well as how it compares to other services online.
Do you want to get your music on 150+ streaming platforms for 100% free?
Get your music heard 👇

Boost Collective is the #1 trusted source of music distribution for artists - You can protect your content and earn royalties whenever it is being used. Enjoy!

What is Boost Collective?
Boost Collective is a music distribution company that offers a suite of marketing services, including Spotify promotion. With Boost Collective, musicians can distribute their music to Spotify, Apple Music, and over 100 other platforms.
A Boost Collective campaign involves pitching a musician's music to curators and playlists, rather than providing artificial traffic or engagement.
The promotion is strictly done through getting the musician on playlists, to get them in front of real people and gain real listeners and fans.
While no streams are guaranteed, Boost Collective's marketing services are designed to increase the musician's chances of gaining more streams and followers.
Furthermore, Boost Collective offers unlimited free releases, meaning that musicians can put as many songs as they want onto Spotify, Apple Music, Amazon Music, and other platforms without paying any upfront fees.
In summary, Boost Collective is a music distribution company that offers a range of marketing services, including playlist promotion and Spotify Canvas creation, to help musicians grow their careers.
They also offer unlimited free releases, allowing musicians to distribute as many songs as they want to various platforms without any upfront fees.

Why Boost Collective?
The main reason that many artists switch to Boost Collective is because of the amount of services they offer for artists. Free music distribution is just scratching the service of what they do.
Boost Collective does a great job at pushing music to editorials, and getting artists on Spotify playlists, which is the main reason many artists switch. Boost Collective offers cover art creation, music marketing, and a variety of cool features most music promotion services don't offer!

Is Boost Collective Legit?
Yes! Boost Collective is a legitimate music platform that was founded in 2017. There may be many reasons people are skeptical of Boost Collective's legitimateness.
For one, buying digital promotion services can be a sketchy feat, especially since most other services utilize bots. From past negative experiences with poor customer service, and an assumption that all online promotion campaigns are run by bots, this can taint many people's image of Boost Collective.
We're here to assure you that Boost Collective does not use any bots for promotion, that your music is getting out to real people.
Let's be real, getting actual people to actually hear your songs is crucial to your music success and ultimately what you want as an artist.
Invite Only
Boost Collective doesn't just offer organic music promotion services, and other marketing services to anyone anymore. They have also become a music distribution platform as well. Due to high demand, they've switched to an invite-only platform, ensuring that their artists produce quality music before even getting access.
The Boost Collective credits system isn't the same as it's used to be. Boost Collective's main objective is now to promote music and distribute with high quality artists.

What is Distrokid?
DistroKid is a music distribution platform that connects artists with online retailers and streaming services like Spotify, Apple Music, Amazon, YouTube Music, and many more. DistroKid acts as a distribution service, gathering funds from these outlets and remitting them to the artists, net of any banking fees and taxes.
DistroKid is a music distribution platform that gives artists full control over their content and revenue. Since it provides more tools than any other music distributor, such as Spotify windowing, lyrics distribution, YouTube monetization, and more, DistroKid has become a popular choice for independent artists and musicians.
DistroKid, in a nutshell, is a digital music distribution service that helps musicians get their music into various online stores and streaming services. As a result of its superior features and the fact that it does not limit the number of files an artist can upload, DistroKid has quickly gained popularity among independent musicians.
The Pros
DistroKid has recently switched to a pay-per-release to an annual-fee model in the music distribution industry. This means that artists can distribute an unlimited number of songs and albums across multiple streaming services like Spotify, Apple Music, Tidal, and others for a single, low fee.
DistroKid's simple interface makes it easy for musicians to upload their work quickly and efficiently. This is an especially helpful function for musicians who regularly release new music and require a solid and efficient distribution system.
DistroKid gives musicians access to Spotify and Apple Music features like Spotify for Artists and Apple Music for Artists so that they can monitor their streams and learn more about their listeners.

The Cons
Distrokid is another great option to distribute music, but getting your music heard? Maybe not.
Boost Collective knows the music business better than any distributor, and is run by a staff that cares about your music career!
The entire process of distributing your own music with Boost Collective is simple, there are two ways:
You get a personal invite from Boost via Instagram.

You submit your music to see if you qualify.

Why Switch?
Boost Collective is now only accepting music artists that have high quality music, and a promising future ahead of them in music.
If you think you fall into that category, we would love to hear from you!
Join The #1 Platform For Music Artists.
We're starting a revolution - and putting music artists (like you) first.
Boost Collective is a must-join platform for musicians all around the world.
Join the rebellion! and get free music distribution, free music promotion, and more.
We're on a mission to change what is possible in the music industry and we need you!