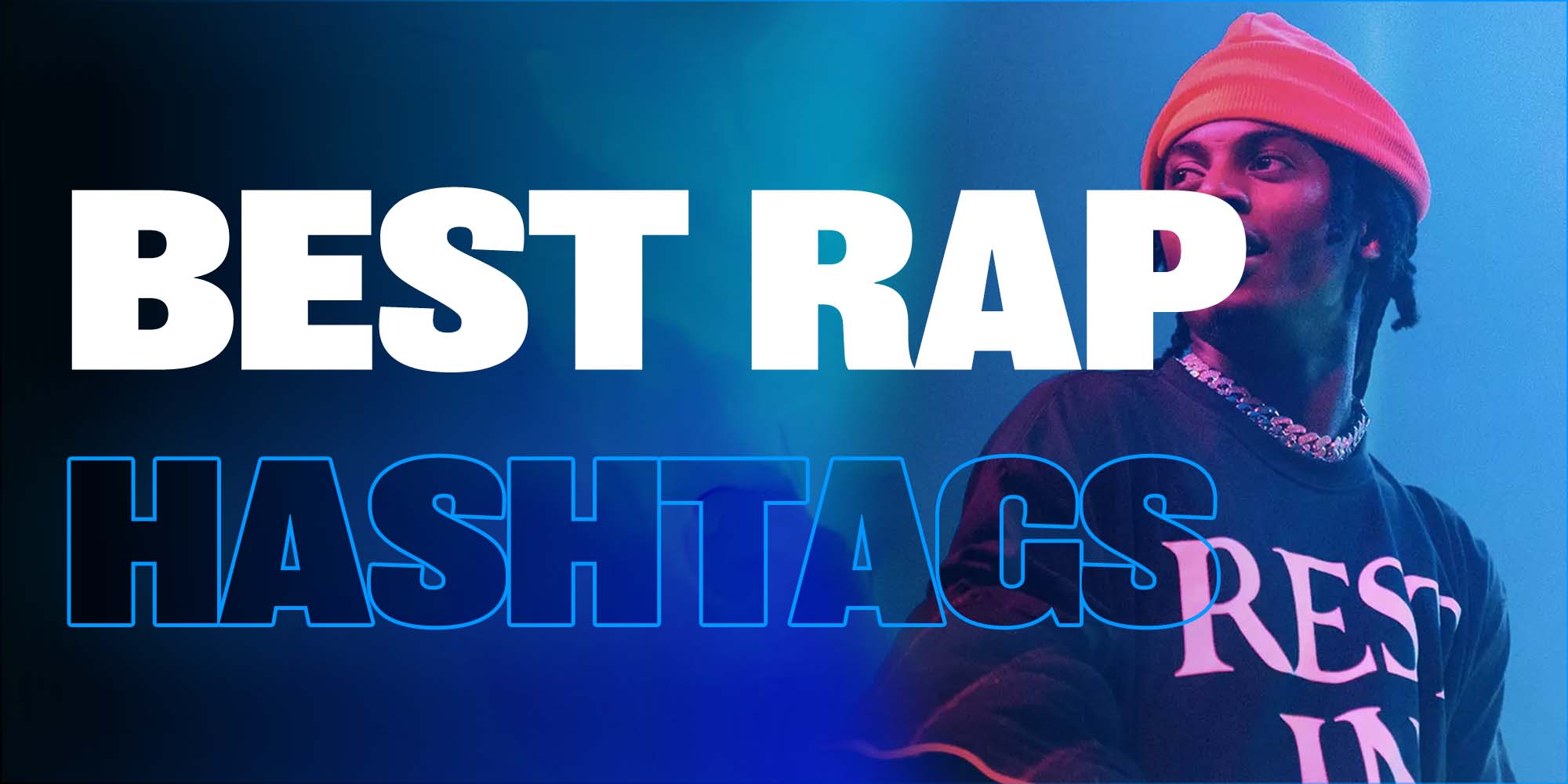 These are the Best Hashtags For Rappers On Instagram
Using the best hashtags for rappers on Instagram can seriously boost your growth.
Social media sites like Instagram and Instagram hashtags have drastically changed social media for rappers and hip-hop artists in the music industry for the better.
Without an ounce of doubt...
Instagram hashtags can help rappers and music artists in general gain more engagement, and more followers and help rappers become trending.
Ok, maybe I hyped up the use of hashtags on Instagram a little too much...
I've seen it firsthand growing our music industry business on social media, hashtags work great for helping your posts become viral.
Of course... rappers and music businesses are similar but also very different in their own right.
You're looking to promote your music career through your Instagram account, not give away some free ebooks.
Instagram posts are also quite different than Twitter and sending tweets.
This blog is exclusively talking about Instagram hashtags and the best hashtags for rappers and hip-hop artists.
There is a proper and wrong methods to utilize hashtags, despite the fact that it may seem to be a simple copy and post of the best hashtags or popular hashtags for that matter.
When it comes to getting your music out there, you want to make the most of your hashtags.
Depending on the genre, target audience, platform, and other relevant aspects, various artists will benefit from using different hashtags.
We're going to discuss the usage of hashtags for music marketing on social media and provide you with the best hashtags for rappers producing only the most quality rap music.
Do you make good rap music?
Best Hashtags For Rap Musicians

Using the best hashtags for your Instagram account is important when it comes to gaining more attention and getting noticed by more people in your music career niche of rap music.
For example, using a new hashtag vs using top hashtags with the most popular can create a massive disparity in results.
You need to demonstrate creativity when it comes to choosing the right hashtags for your music business.
The main goal of using Instagram hashtags shouldn't be doing a copy and paste of popular hashtags or even trending hashtags in a lot of scenarios.
Relevance and competition are the keywords here.
Relevant hashtags on Instagram will pay dividends for your Instagram account and you make your profit in the shape of new followers and more engagement.
Low Competition Rap-Related Hashtags
These low-competition hashtags are the best hashtags to use in terms of ranking high on the tag directory.
These are the top 14 Instagram hashtags that are low competition.
| | | |
| --- | --- | --- |
| Hashtags | Total Posts | Average Likes |
| #spinrillauploads | 7.5k | 184 |
| #power92chicago | 33.2k | 292 |
| #visionstudios | 3.7k | 158 |
| #nashvillehiphop | 29.3k | 180 |
| #hiphopblogger | 59.7k | 1.6k |
| #goodmusiccoming | 3.2k | 1.5k |
| #grandhustlerecords | 8.2k | 260 |
| #ovosoundradio | 36.5k | 272 |
| #baltimorerappers | 24.3k | 230 |
| #canadianrappers | 19.9k | 1.2k |
| #skyscrappers | 58.8k | 197 |
| #rappersdelight | 60.5k | 1.3k |
| #rapperslife | 35.1k | 1.3k |
| #orlandorappers | 16.4K | 533 |
Although, these aren't the most popular hashtags or the best hashtags if you're looking for new trends to take advantage of...
If there's a new trend afoot you best believe these trends come with more followers, more engagement, and a plethora of new listeners.
But keep in mind trending hashtags also come with a lot of competition.
Submit your song, if I like it then I'll add it to my Spotify playlist.
level-up Your rap skills today.

This banner above (with the book) ☝️ is the BEST resource for upcoming rappers.
This book is widely used in music schools around the world and was called "the best how-to book of its kind" by Music Connection.
Many
well-known
musicians
provide
guidance
and
insight
to
this
fascinating
guide,
including:
Clipse

Cypress

Hill

Nelly,

Public

Enemy

Remy

Ma

Schoolly

D

A

Tribe

Called

Quest

Will.i.am
This $12.00 book is the most impactful investment you can make in your career. Deadass.
Examining
the
dynamics
of
rap
from
every
region
and
every
form
(mainstream
and
underground,
current
and
classic.)
This book is
covering
everything
from
content
and
flows
to
rhythm
and
delivery.
Here you'll discover
countless
candid
and
exclusive
first-person
insights
gleaned
from
interviews
with
over
a
hundred
of
the
most
innovative
artists.
How
to
Rap
is
the
first
book
of
its
type,
and
it's
packed
with
useful
information
for
aspiring
rappers
and
seasoned
veterans
alike!
Just tap here to
get the 'How To Rap' book today.
Medium Competition Hip Hop-Related Hashtags
Medium competition Instagram hashtags related to hip hop are a great middle-ground between popular hashtags and a hashtag that isn't quite as popular or tags with minimal engagement.
Below are the 13 best Instagram hashtags that are medium competition.
| | | |
| --- | --- | --- |
| Hashtags | Total Posts | Average Likes |
| #checkmeout | 363.3K | 542 |
| #hiphopcanada | 110.9K | 505 |
| #nycrapper | 55.6K | 3.6K |
| #hot97whosnext | 93.6K | 2.2K |
| #hotnewartist | 70.4K | 2.8K |
| #newyorkrappers | 70.9K | 3.3K |
| #rnbonly | 63.8K | 2.6K |
| #indierapper | 241.1K | 667 |
| #rapradar | 378.1K | 1.1K |
| #rapperswanted | 229.7K | 4.3K |
| #rappersbelike | 115.5K | 662 |
| #atlantarappers | 117.2K | 3.6K |
| #atlrappers | 143.8K | 681 |
The popularity of these tags can still be quite high and are full of Spotify users, artists, rappers, and many listeners that would be great to embed within your audience.
I would recommend doing a mix and match of each tier of hashtag competition mentioned on this blog page.
Regardless if you have a rap account, a producer's account, or even if R&B singers are reading this, Instagram hashtags aren't a fit all type of thing.
Producers can have better success with the same hashtags compared to rappers or singers.
High Competition Rap Music-Related Hashtags
Here's the fun part... high competition Instagram hashtags are in the top hashtags echelon when it comes to more engagement for your Instagram page.
These are the top 12 Instagram hashtags that are in high competition
| | | |
| --- | --- | --- |
| Hashtags | Total Posts | Average Likes |
| #rappers | 8.7m | 2.1k |
| #rocnation | 1.3m | 2.8k |
| #hiphophead | 3.1m | 2.8k |
| #unsignedhype | 1.9m | 1.9k |
| #indiehiphop | 539.7k | 2.6k |
| #newhiphop | 781.2k | 1.9k |
| #rapartist | 2.9m | 1.6k |
| #undergroundhiphop | 4.1m | 1.3k |
| #boombap | 2.6m | 950 |
| #hiphopculture | 6.7m | 1.9k |
| #torontorappers | 218.2k | 364 |
| #newrappers | 228.9k | 955 |
Top Hashtags related to hip-hop can be an absolute swing and a miss for engagement and gaining followers.
This is because top Instagram hashtags are wildly oversaturated which will give your page trouble getting noticed by Instagram users looking up these trending hashtags.
Why Rappers Should Use Trending Hashtags For Their Instagram Profiles
Modern social media platforms place a high value on the usage of hashtags.
A hashtag is a way for people to identify the information they're interested in and connect with other people who share their tastes.
Since there's a huge emphasis on Instagram's part in keeping users on their platform for as long as possible.
Trending content is rigorously promoted and shown to people looking for this content.
Not only can taking advantage of this trend in terms of video/shorts content be very beneficial.
Using hashtags that are trending can also be very beneficial.
I would recommend taking advantage of trending content as much as possible!
Who doesn't love more engagement in your posts and videos?
Instagram Hashtags

Instagram likes fewer but more distinctive hashtags over a slew of similar ones.
The number of hashtags in a single post should not exceed 5-7 per post.
Although, one to two more won't break the proverbial back of Instagram.
It also won't guarantee more followers using popular hashtags.
Utilize hashtags with a narrow focus and a high degree of specificity.
To validate a keyword, use the hashtag search option that is available on the Instagram search tab.
Rappers aren't all equal when it comes to knowing how to properly use Instagram hashtag designations.
Popular Hashtags

Top hashtags are great to use when you don't want to spend too much brainpower figuring out what certain hashtags are best for engagement.
It's understandable wanting to simplify the hashtag process as a lot of the time it could be more worth spending your time getting good at your niche craft of being rappers and producers.
Using top hashtags can only help rappers so much as what matters in promoting your Instagram videos and songs is the actual quality of your music.
Spending time contacting Spotify playlists could even be a better use of your time...
Or you could join the Boost Rebellion and get Spotify promotion for free!
Hashtags Related To Rap Hashtags on Instagram
There's no doubt you could find hundreds of thousands of hashtags related to rap music, hip-hop, etc.
The following are the 27 best rap-related hashtags for rapper and hip-hop artists
| | | |
| --- | --- | --- |
| #hiphop | #rap | music |
| rapper | trap | beats |
| hiphop music | newmusic | producer |
| artist | love | dance |
| rapmusic | rnb | dj |
| art | hiphopculture | explorepage |
| soundcloud | spotify | rappers |
| musicproducer | freestyle | youtube |
| beatmaker | musician | instagood |
If your niche is more in the trap genre than our past blog about the top Instagram hashtags related to Trap music then click here for more information.
Popular music industry hashtags!
As mentioned above here are popular Instagram hashtags you can copy and paste.
| | | |
| --- | --- | --- |
| #Rap | #RapMusic | #InstaRap |
| #RapSong | #RapBeats | #Rapper |
| #RapGod | #Freestyle | #FreestyleRap |
| #TiktokRap | #SoundCloudRapper | #Rapping |
| #RapKing | #RapIsLove | #RapLegend |
| #RapArtist | #RapItUp | |
| #OfficialRap | #Diss | #DissTrack |
| #MixTape | #Rappers | #BestRap |
| #ViralRap | #OGRapper | #RapCulture |
It's always good to add a few trending hashtags to your Instagram posts because who knows they could do very well.
Just make sure the hashtags are related to your posts.
Why hashtags are important for musicians using social media

Using hashtags has always been critical when it comes to contemporary social media.
Using hashtags can make it much easier for fans to find your music snippets or music videos, etc.
Hashtags are an important part of the Instagrams algorithm and you can help the algorithm by using rappers, or musician-related tags for Instagram to show your rap song or video to the right people.
As a result, Instagram has one of the strongest search engines in the industry.
The hashtags and phrases used by Facebook and YouTube, for example, assist users in locating the material they're looking for.
Do you make good rap music?
Join The #1 Platform For Music Artists.
We're starting a revolution - and putting music artists (like you) first.
Boost Collective is a free-forever music distribution platform. Upload unlimited releases to 150+ stores and platforms and keep 100% of your earnings.
You'll also get free playlist promotion, cover art creation, and much more!
Join Boost Collective for free here.