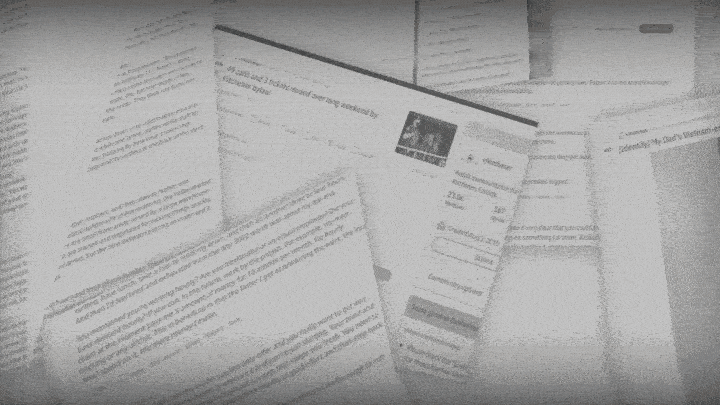 REDDIT RAP AMA
Want your music career to fall into shambles?
Stop interacting with fans.
Fan Interaction is the most essential aspect of building a long-term fan base.
There are lots of you can learn by checking the Reddit AMA's for prominent rappers!
The 3 rappers we're highlighting today are:
50 Cent

Lil Dicky

Chance The Rapper
Discover what the difference between you and A-list rappers is!
Here are the best rap subreddits!
| | |
| --- | --- |
| Subreddit | Purpose |
| r/16bars | The cleanest verses & bars |
| r/appers | A hub for rappers across the globe |
| r/beatmakers | Find sick beats for your music |
| r/cassetteculture | Kicking it back to 90's rap |
| r/cypher | Fresh rap cyphers. Enough said. |
| r/drumkit | Find the right drums for beats |
| r/freshalbumart | Share epic album artwork |
| r/hotsamples | Find samples behind hit songs |
| r/instrumentals | Share and sell dope beats |
| r/ratemysong | Get feedback for your bars |
Submit your song, or a new album, if I like it then I'll add it to my Spotify
playlist
.
1. 50 Cent AMA
50 Cent is an artist notorious for his antics and abrasive attitude.
Interestingly though, he has a very different side in his Reddit AMA.
Not only does he drop music industry gems- but he does it with the classic 50 Cent swagger.
Tap HERE to see the Original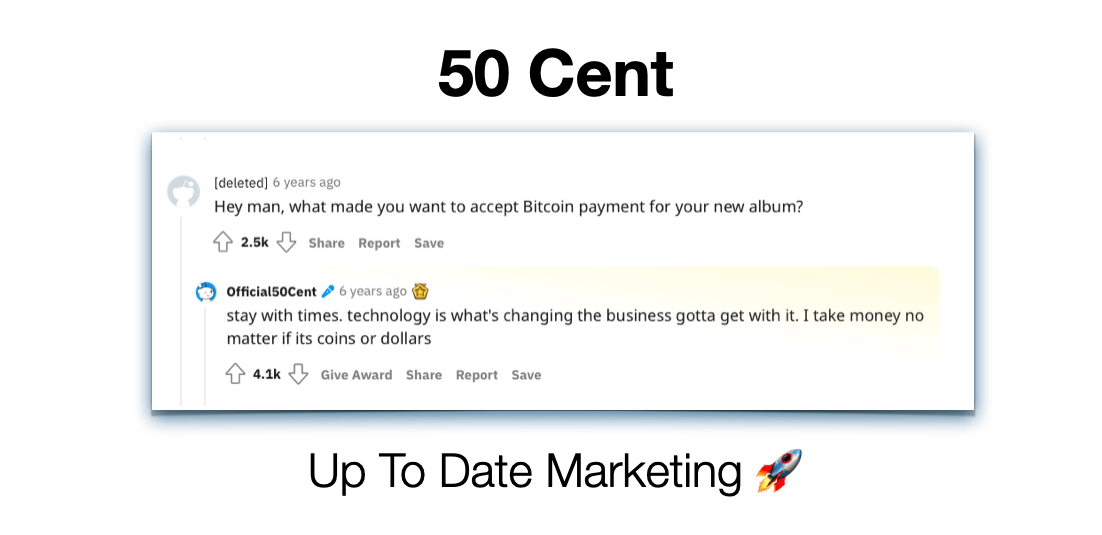 Reddit Post.
As you can see 50 Cent is bullish on bitcoin and crypto!
Gahh Damn! 50 is ahead of the time you would think that this comment was left only a few weeks ago.
To put things in perspective Bitcoin was at less than $500 back in 2015 at that time now it's over 30,000.
It's evident to see that the music industry players had access to this info before anybody else.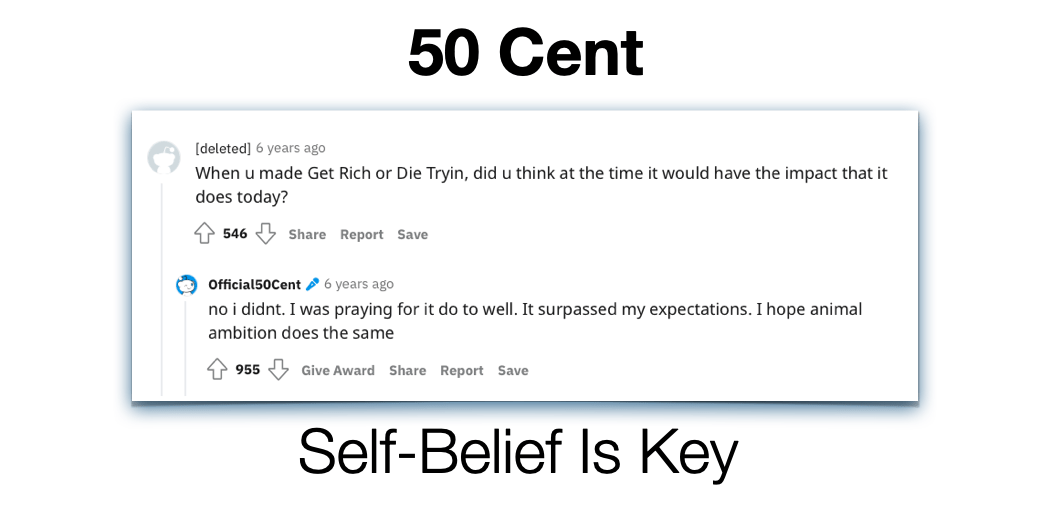 Not only that 50 Cent did not expect that his most impactful album Get Rich or Die Trying to blow up the way it did.

This is powerful and speaks volumes to how one needs to have faith in yourself to make it in the music business.

It may seem like these top in history label signed artisan have everything in the bag, but even they faced uncertainty and fear regarding results.

Proof that you need to keep going!
2. Lil Dicky AMA
Very few people can say that they have not heard of the name lil Dicky.
Although you don't see him in the public guy as much he does have a huge career in the entertainment industry as a whole.
Tap HERE to see the Original Reddit Post.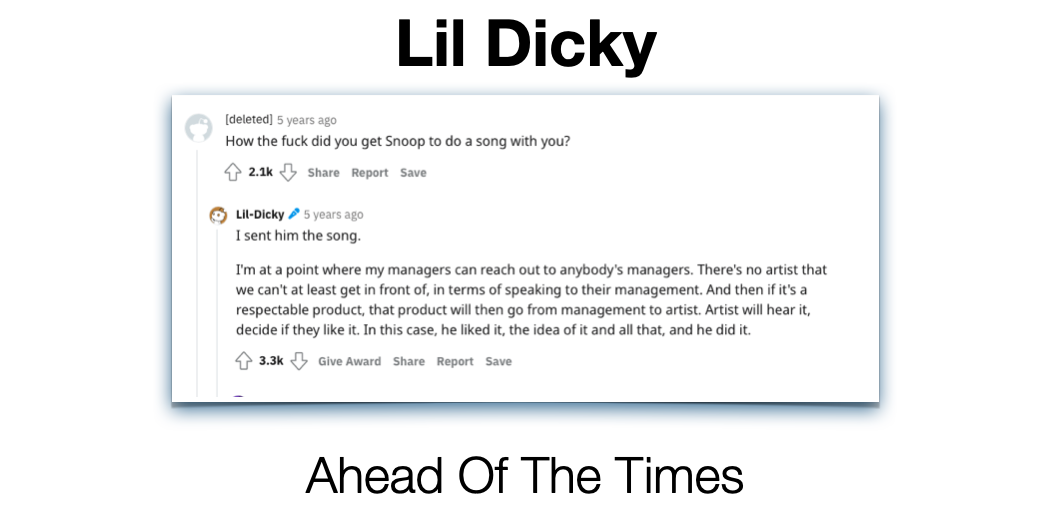 Lil Dickie opens a peek into the black box that is the music industry.
People may think that labels lost their power since the barrier of entry for music production decreased, however the one thing that will not be democratized is relationships.
If you ever thought that label deals are a scam and then This Video might change your mind!

Extremely valuable for artists that are considering potential label deals.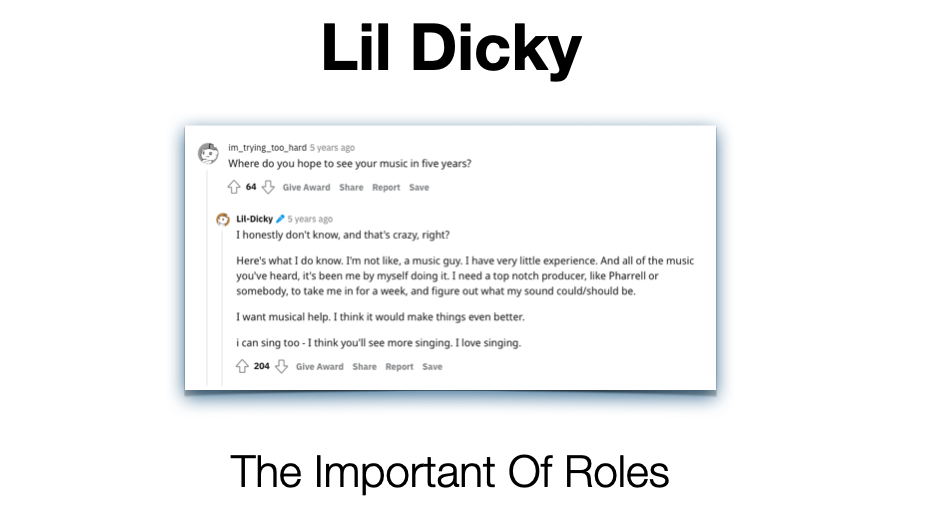 Most artists are forced to be not only their recording artists but their producers and engineers as well.
Lil Dicky does not follow this idea though he believes that collaboration is a big part of creating music that matters!

If you want to collaborate with other artist, Tap Here for our full free guide!
3. Chance The Rapper
Chance the rapper is the kind of guy that even your grandmother would love.

Being a Christian artist, he has a slightly different take when it comes to music creation.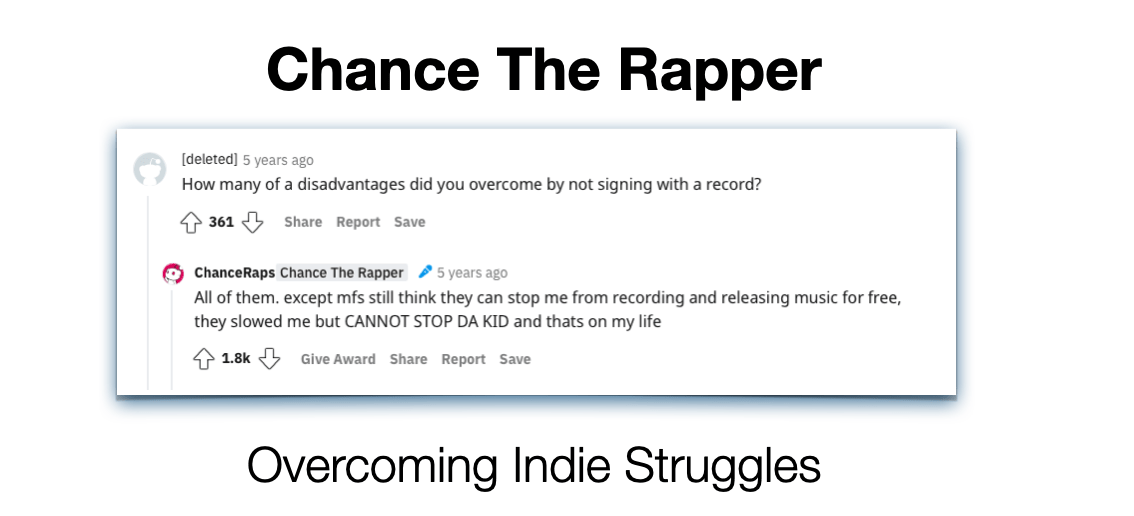 As you may know, Chance the Rapper is a self-proclaimed independent artist.

Chance had to put in extra work for his music projects and is proud that he overcame all of his obstacles.
You should be motivated by this because it shows that there is viability for a music artist to make it even while independent!
Learn to market your music today for free! 👇
Join The #1 Platform For Music Artists.
We're starting a revolution - and putting music artists (like you) first.
Boost Collective is a must-join platform for music artists.
Join the rebellion! and get free music distribution, free music promotion, and more.
We're on a mission to change what is possible in the music industry and we need you!