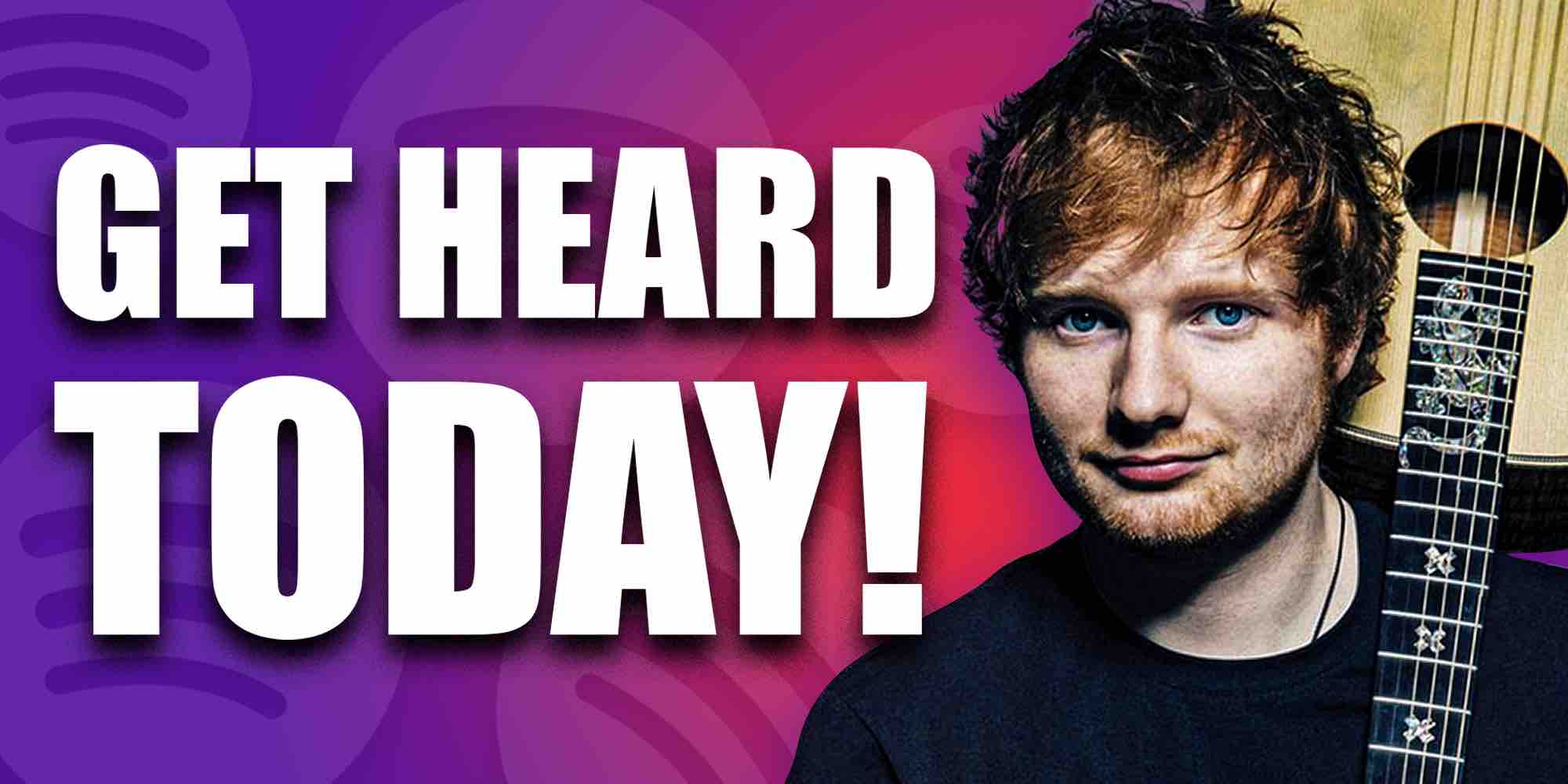 What is a Spotify playlist placement?
A Spotify playlist placement is when a curator puts your music into their playlist.
Independent artists struggle to grow their fanbase and tap into an audience on Spotify...
This is why you should chase playlist promotion placements.
The playlist curators build an audience of fans that like a specific style of music (either mood or genre.)
By getting a Spotify playlist placement you're gaining access to this audience of REAL FANS!
This is one of the best ways to gett new people to listen to your track.
Tap below to get your hot music into a top Spotify playlist! 👇

First: Ask your friends and family to place you!
Before reaching out to famous DJs to place your song in the playlist...
Try contacting your friends and family to help you with your music promotion.
They can place your song in their playlist, this is a fast and easy music marketing strategy.
Also... It still works for Spotify promotion.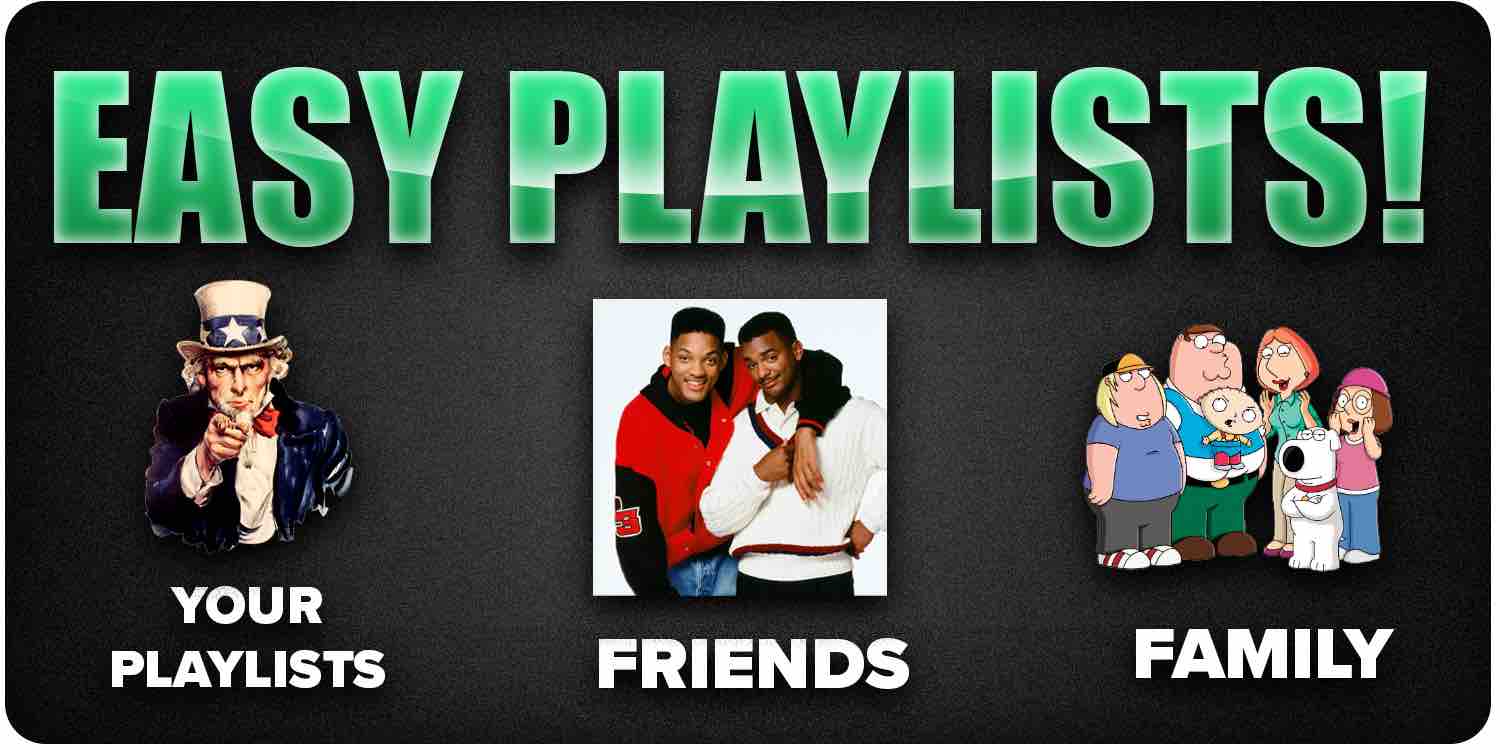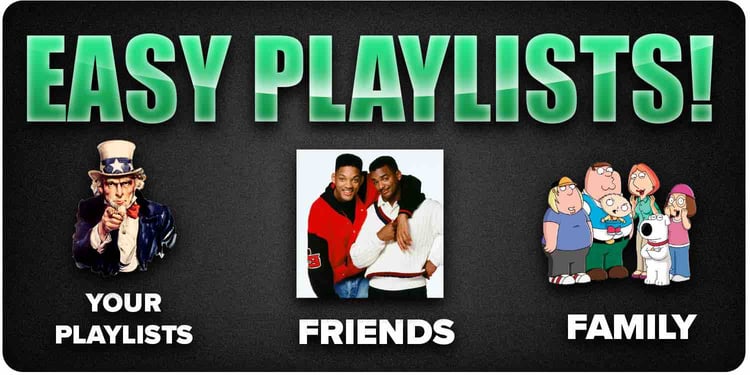 For example: if your song is hip-hop just ask them to place it in their hip-hop playlist.
(Note: Apple Music requires a different promo. You must learn How to Promote on Apple Music.)
Something as small as your friends and family putting your tunes in their playlist can go a long way!
As long as your songs can get in a playlist of the correct genres and vibes then you'll see an increase in streams!
Especially when it comes time for Release Radar - on all your following releases.
It's important to have a good playlist system in order to ensure growth as independent artists.
The system should be feeding your tracks the right Spotify user data to trigger the algorithm.
Free vs paid playlist promotion
When it comes to music Russian on Spotify you have two options.
Strive for free Spotify playlist promotion (algorithm playlist)

Strive for paid Spotify promo packages
Both of these music promotion strategies are valid.
It's not that it's much harder to get free organic music promotion...
It just takes more time, and skills required.
The case for all music marketing even on Apple Music!
However, it is possible to get your song and Release Radar and Discover Weekly.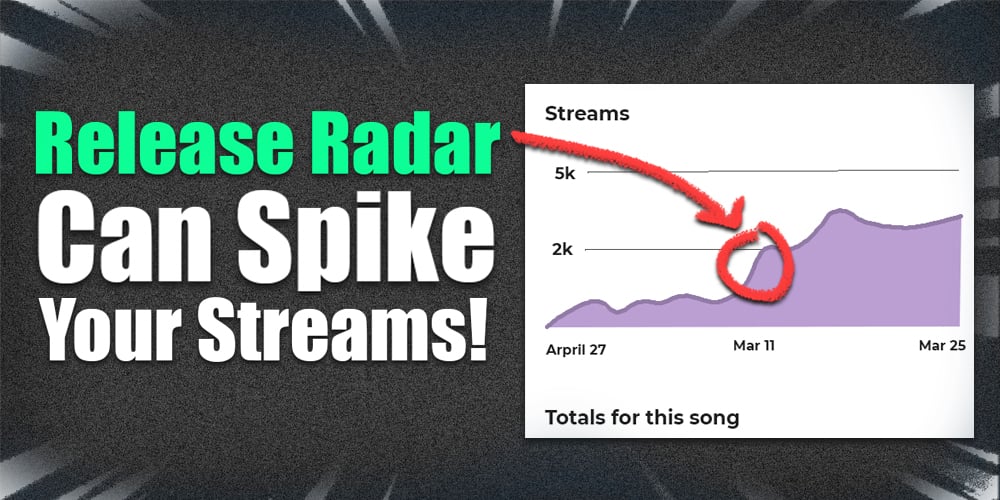 To build an audience organically through a playlist placement is difficult.
That's why these curators charge in order to subsidize the cost to grow their playlist.
It cost money to make money.
But your song needs to be extremely to get the artist push through advertising for shout-outs.
This will help build up the data on that song.
Reaching out to playlist curators
It' important to reach out to playlist curators in a respectable manner in order to get the best Spotify playlist promotion.
This is the case whether you're trying to get on Apple Music playlist or Spotify.
If you don't feel like going through pitching services then you can reach out to curators directly.
All you have to do is find a playlist curators name and then search them on Instagram.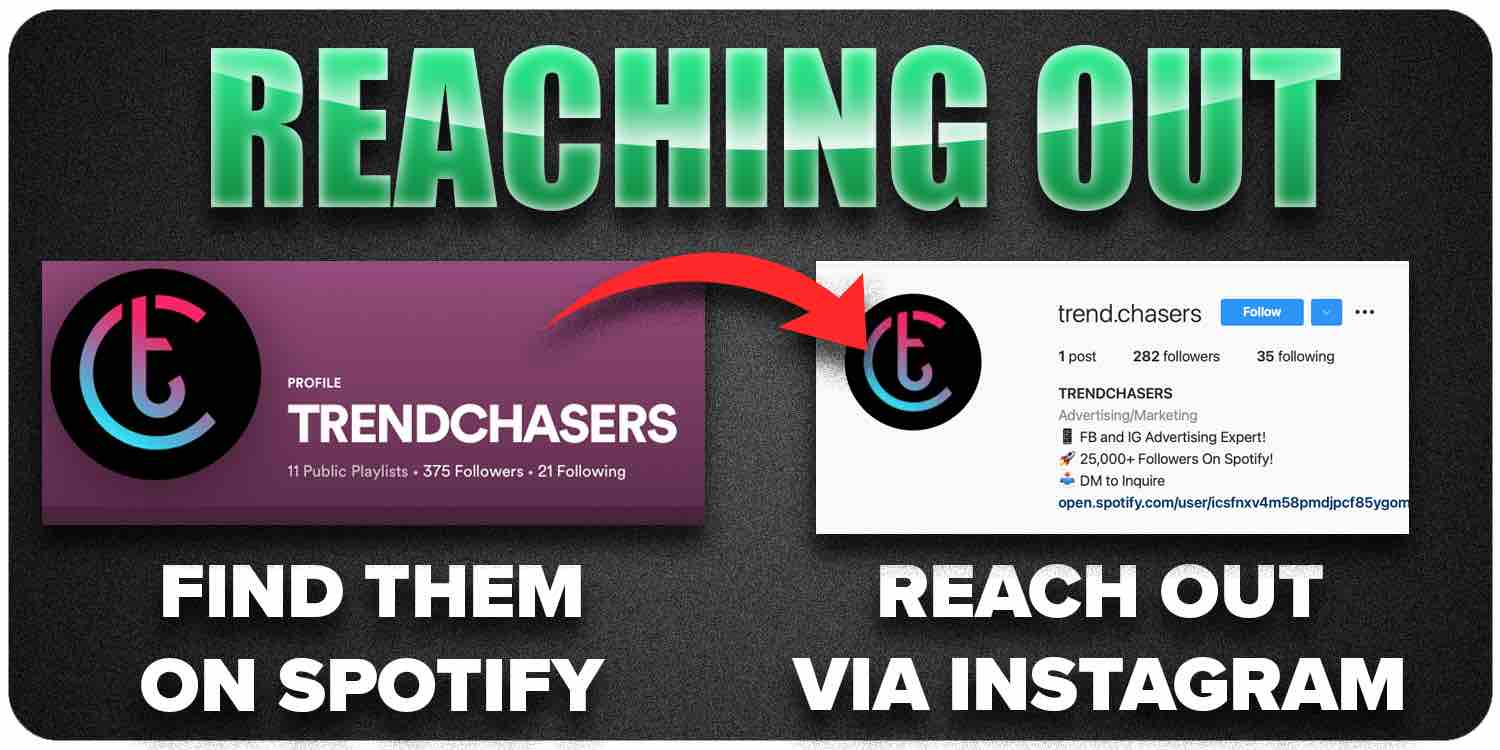 They should pop up and from then reach out to them regarding the playlist.
This takes more time and is more tedious than using pitching services however sometimes Spotify promotional services can get expensive and I understand it.
Just note that every week these creators like to change the songs and musicians in their playlists.
You may not have your placement last forever however getting it tuned there in the first place will more than help you!
Why care about Spotify playlist placement?
If you choose to run your own music promotion without a playlist and then all the power to you!
Just note that in this case: you'll have to find fans and access a wide group of potential listeners yourself.
Most people won't start listening to your truck unless they have access to it!
The problem with promoting on social media is that people bro for many reasons:
Funny memes

Twerk videos

Messaging their friends

Seeing what family is up to
Every social media platform is designed so that people don't really leave the site...
It's a real struggle to get people to view your social media account AND THEN tap the link to check out your music this way.
It's much easier to use promotion services that are already in line with Spotify.
This is because the user will listen without distraction from cat videos.
This is the reason why getting a Spotify playlist placement is crucial to your success on Spotify!
Don't forget: Record labels rely on Spotify playlists too!
Getting a Spotify playlist placement is so important!
This is why record labels use a Spotify playlist placement to promote their new music!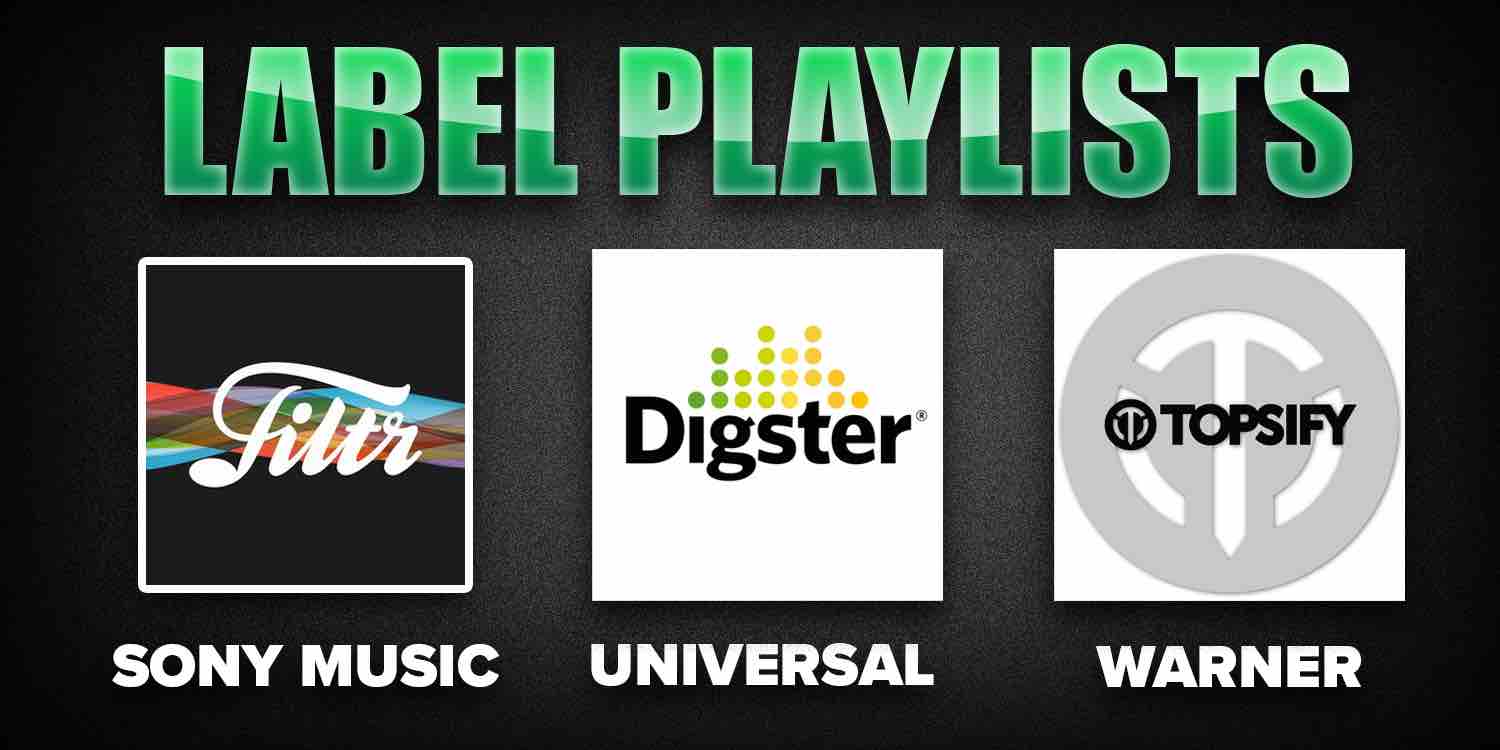 Let's say for example there is a new breakout hip-hop music artist.
Let's say this hip-hop artist is part of Lil Wayne's hip-hop label Cash money!
Here is how it works:
The record label will put the hip-hop song into the multiple playlists that they own

This acts as initial Spotify promotion for the hip-hop track.

The song builds within the Spotify algorithm

The song is added to an editorial playlist.
Record labels use playlists as a well-oiled machine for Spotify promotion.
But can you really blame them?
It really works!
Warning: Avoid a fake playlist placement!
With all the money being made, inevitable there will also be rampant scams.
Don't JUST trust the number of followers on one playlist.
It's really easy for playlist curators to make fake playlists and charge money to be placed on them.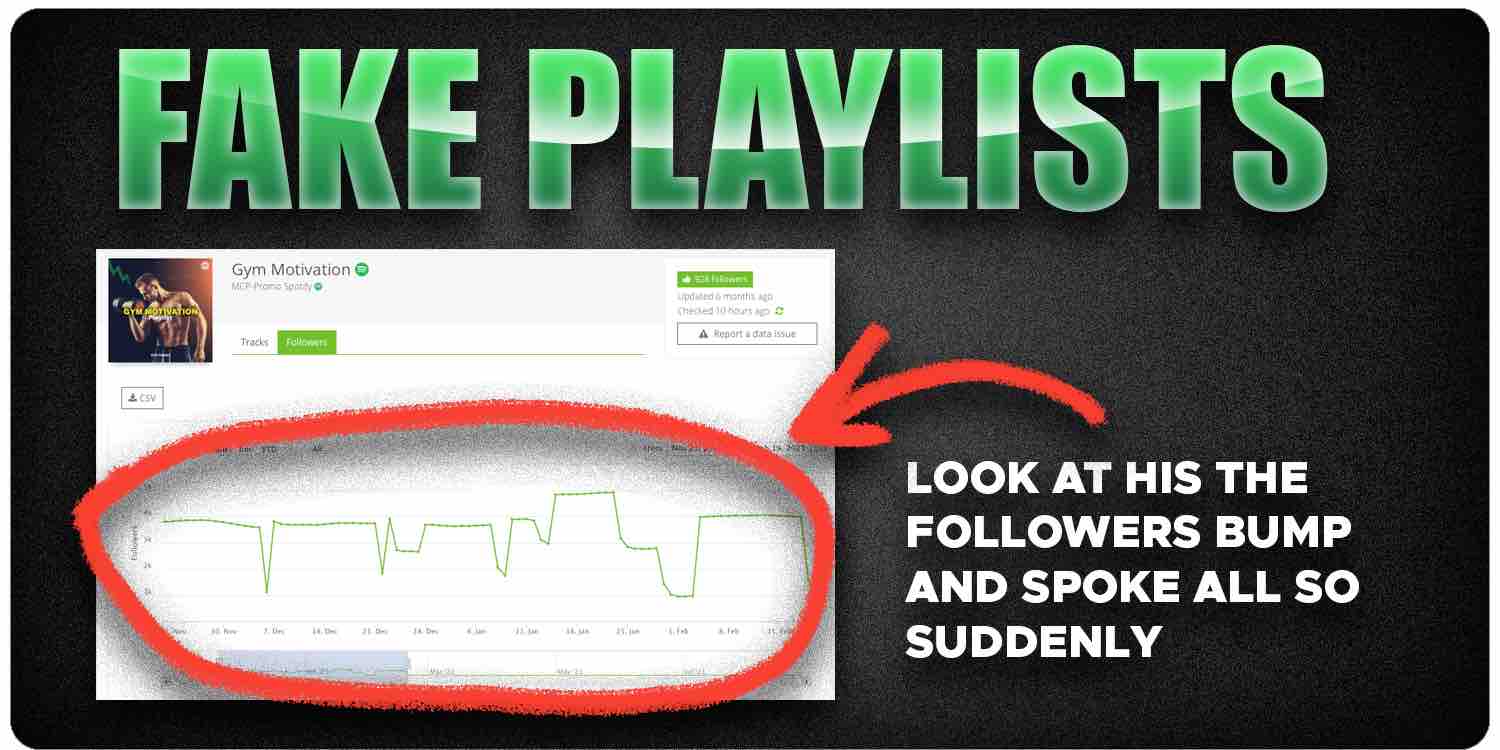 This is the case whether it's a hip-hop playlist or any other genre!
Before getting just any Spotify promotion campaign, you need to do your due diligence as independent artists.
Running an audit on the music promotion that's offered to you is essential.
Sometimes playlist promotion is too good to be true
I urge you to use more than one promotional website to grow your stream count.
What you'll notice when promoting with more than one website is... Different sources produce different results.
Some promotion services are going to give you millions of streams for $50...
Those ones I do not advise musicians to try because that seems like a pretty fraudulent promo service.
Millions of Spotify streams are hard to come by
Realistically if a website can give you millions of streams for that low then record labels would literally have trillions of streams.
In fact, everybody would have millions of streams - can't afford to pay $50 for a campaign?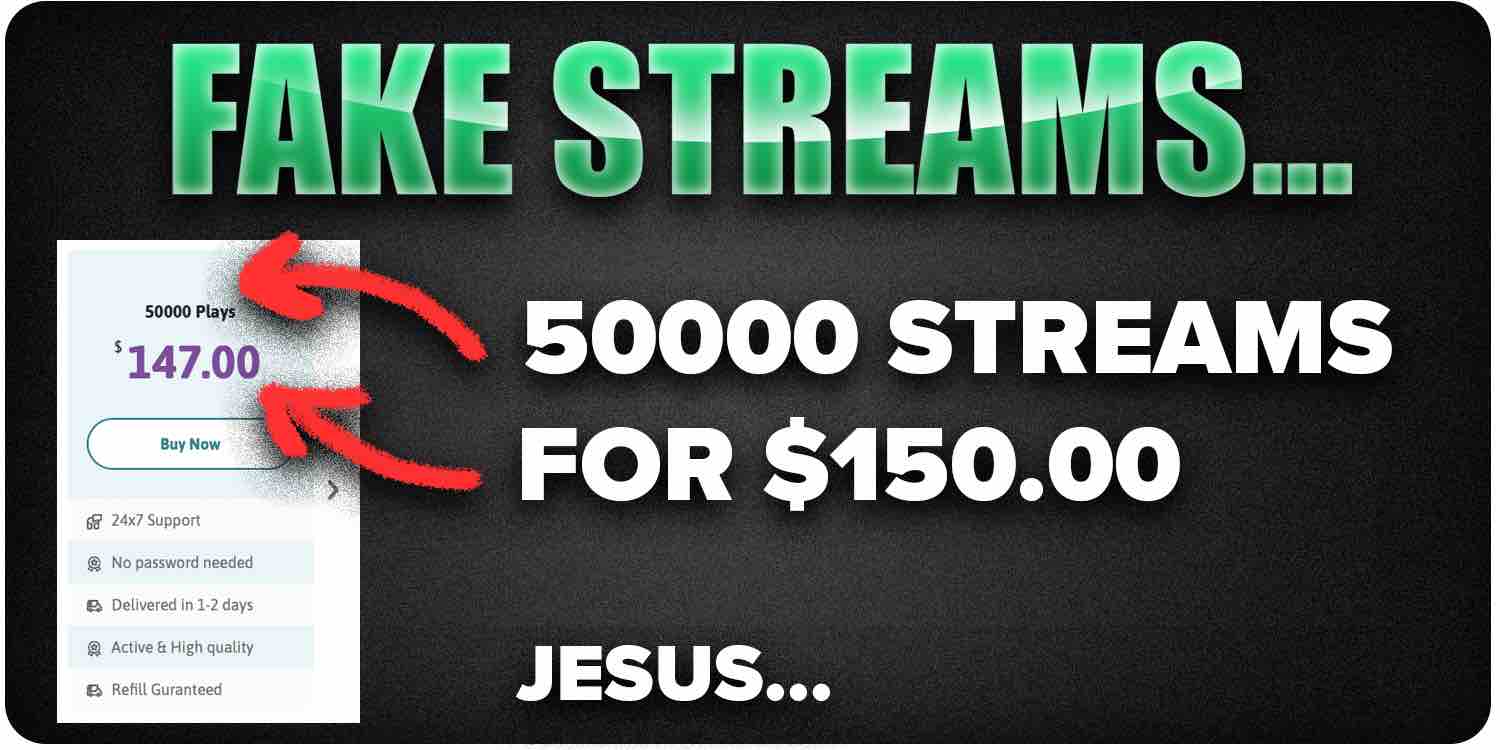 Here you can get 50'000 streams for $150.
That means, to get a million streams that will only cost you $30000.
Hmmm.... That doesn't add up.
If the Spotify playlist promotion looks too good to be true then it most likely is.
You should use your common sense and street smarts when it comes to Spotify promotion so that you don't get burnt.
Does the playlist size matter?
What may sound surprising is... The popularity of a playlist does not matter as much as you think.
When you're trying to run a campaign you may think that if you get a feature on the playlist with the most followers when you're gonna get hurt for the most amount of people, right?
This is hardly the case when using playlist promo services though.
What happens is there may be MORE active listeners on a playlist that is smaller and has only 2-5 Thousand followers.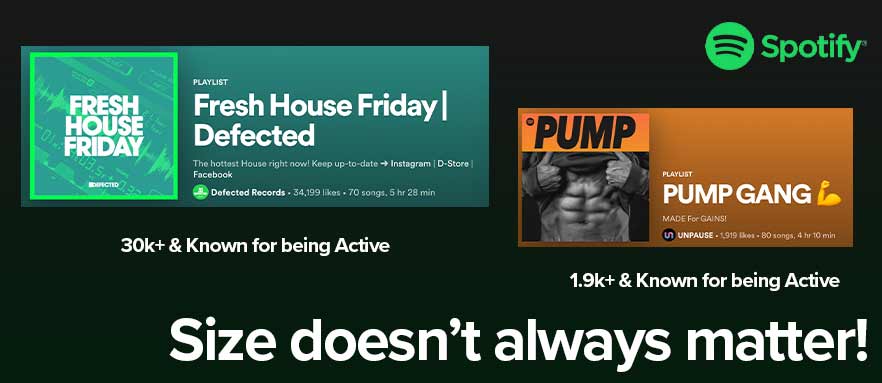 This is 100% depending on how well the playlist Curator is able to grow and maintain their playlists audience.
The more active the curator is promoting the playlist, then the more you can expect from this placement.
I've even heard stories of an artist get a playlist feature with over 100,000 followers...
Yet they struggle to get even 100 streams from that campaign.
This is why you must ensure you're getting a campaign from a trusted source so that you don't spend all of your budgets on whack playlists.
How to audit a Spotify playlist
Of course, in order to see if the Spotify promotional services are legitimate, you'll have to audit the playlist placements.
Fortunately, it's easier than ever for independent artist to check multiple playlists and audit them all.
You'll have to use a tool called a SpotOnTrack.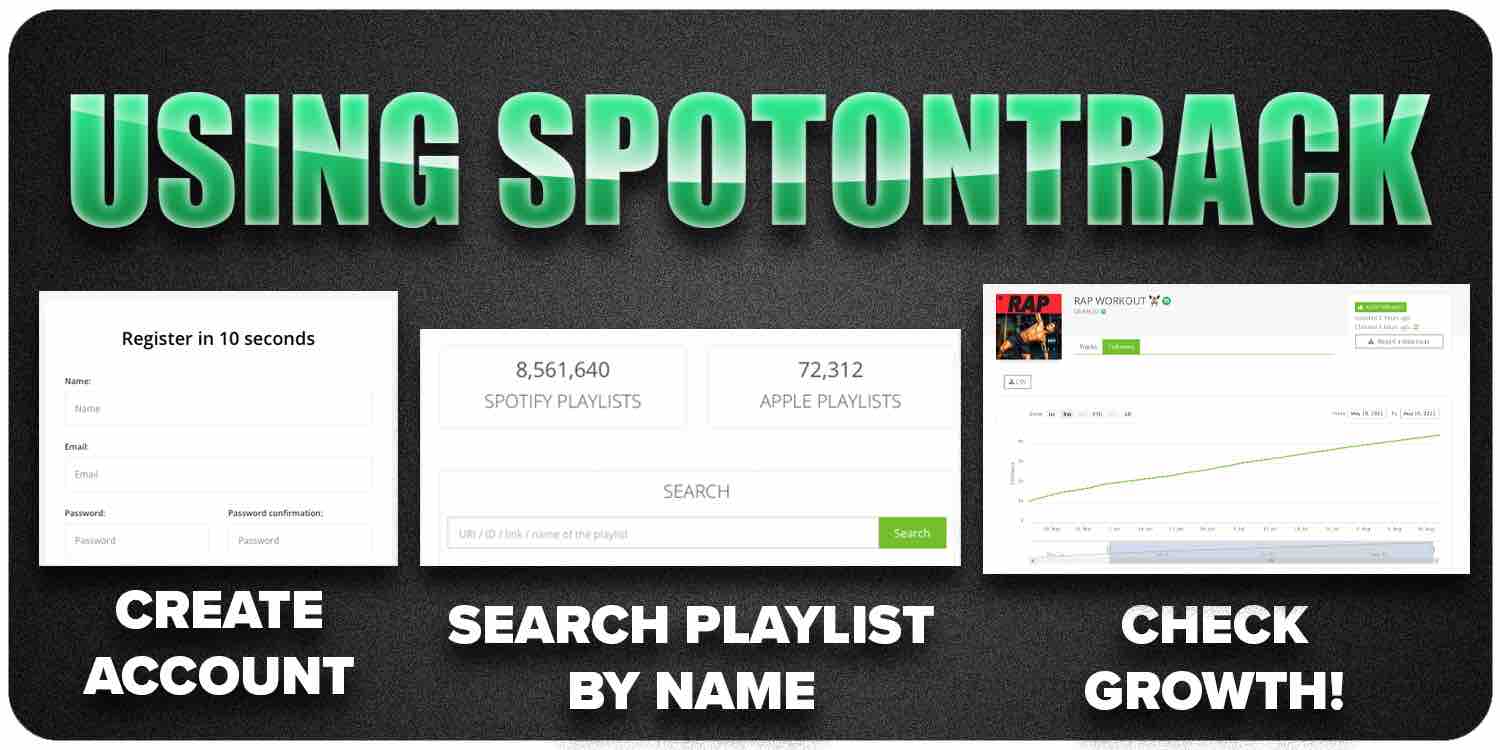 This app tracks radio stations as well as multiple playlists on Spotify (a couple million.)
This will give you all of the data.
Here, you can just create an account, then input the link for the playlist placements
You'll see is a graph of the playlist growth.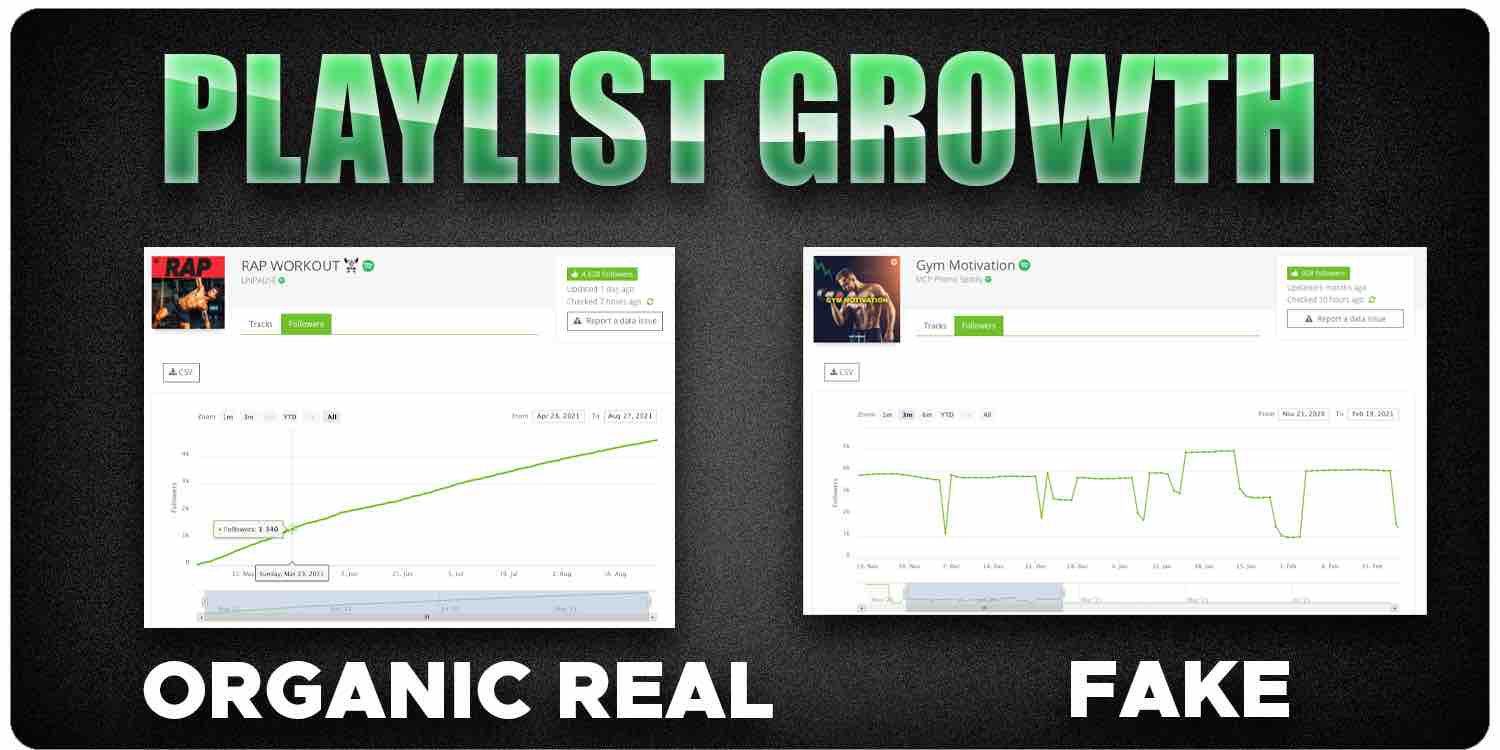 If the playlist growth is not linear and seems kind of odd... How to stay away because it's most likely a botted playlist.
Listener location matters for playlists
You should also check the service to make sure that the listener locations make sense.
Generally, if the scammer is advanced then they'll make their followers grow in a way that looks normal to artists that run an audit.
This is when you go onto the actual Spotify site through the desktop extension.
Locate a small artist in that playlist and see where they're discovered on.
You'll see the listener location in the about section.
If the location seems to get a lot of streams from a relatively small town then you should watch out for whichever service is running the playlist promo.
Locations to watch out for are Buffalo and Frankfurt Germany.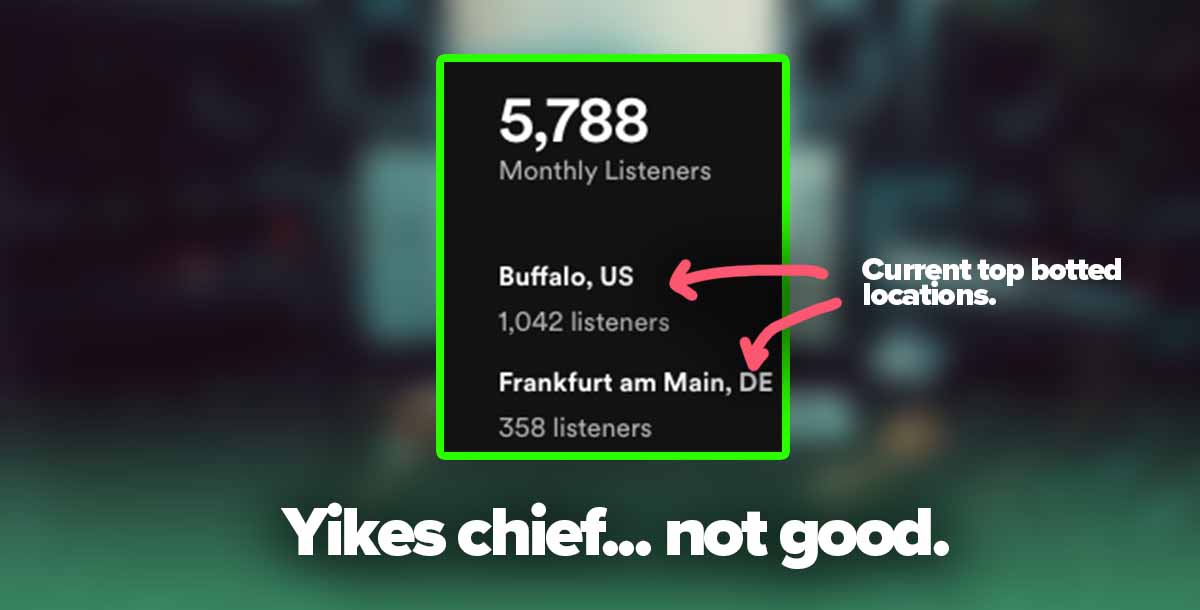 The solid option is to ask the playlist service how they grow their listeners.
There are data centers here, is it for a boss to run up fake streams to artists.
This video explains exactly how it runs:
Get a Spotify embed in blog promotion
Did you know it's possible to grow your popularity on Spotify through a blog site?
When you get a blog write-up, the site will generally embed your new tracks onto the blog for fans and readers to check out.
While you're getting heard through the blog network it's also counting the plays - it's promoting your single.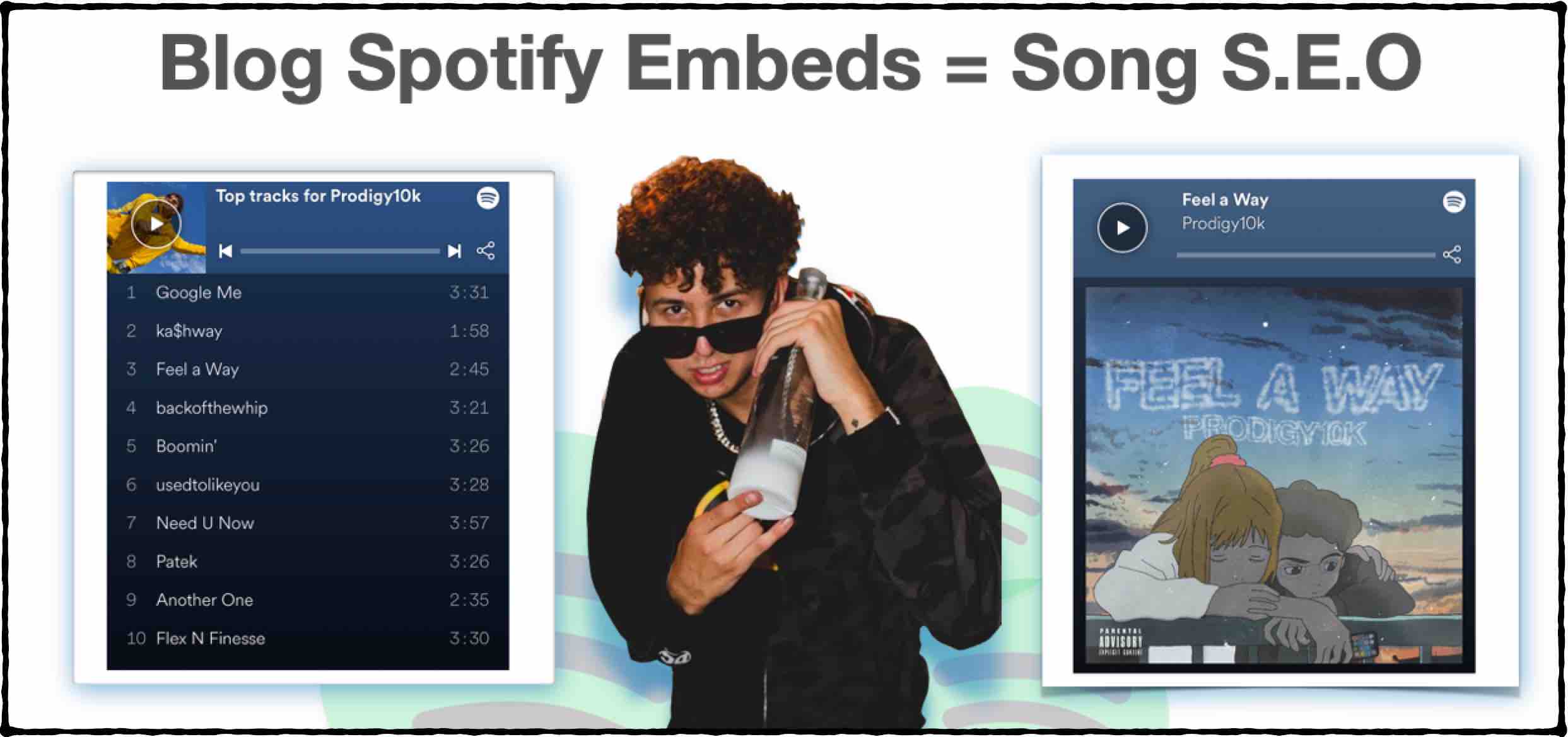 Many artists seek to grow a wider audience and because of that, they get a blog service.
Make sure that when you're getting blogs written that you sent them your Spotify link to embed RATHER than your SoundCloud link.
This won't explode the number of followers you get, your tunes will not magically blow up overnight...
But this is just one part of the full process of getting more streams.
There are many music marketing ASIDE from the traditional playlist placement.
How much should Spotify playlist promotion cost you?
Just know that you will not be able to afford millions of organic streams.
That said you shouldn't have to break the bank just to get your song in a playlist network.
There are multiple different costs to get heard on Spotify, just note that a decent campaign may cost an artist somewhere between $250- 500 to really get the numbers up.
There is a cost to promote and grow playlists!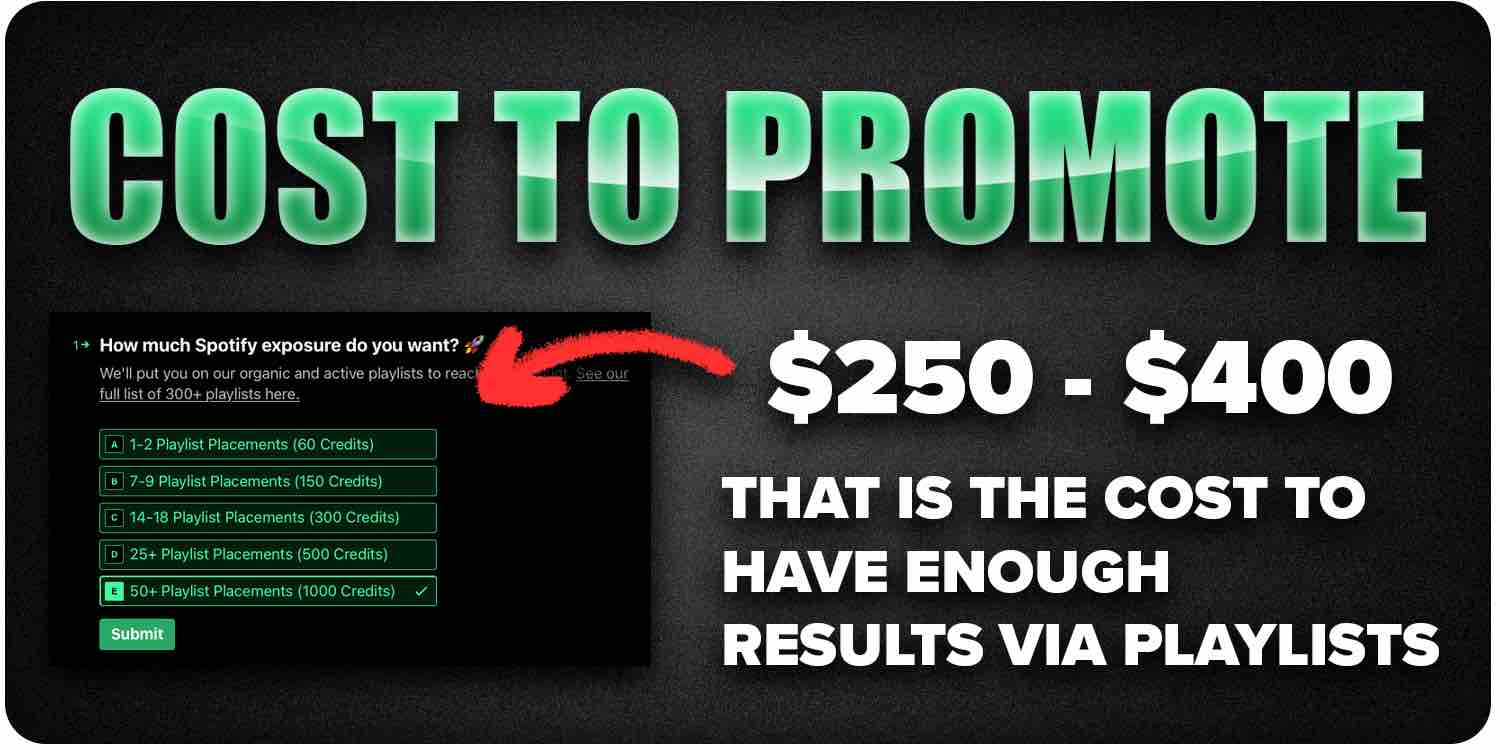 You cannot afford to pay this much no worries, positions can still market it with a lower budget.
Just keep in mind that you only be able to access a large network of creators if you can fork up the amount necessary!
However, any service that charges artist an absurdly low amount for a high amount of listeners is most likely fraudulent like mentioned before.
Different types of Spotify playlists placements
Just note that there are different types of Spotify music promotion methods.
Getting a Spotify promotion placement in the top 10 is different from than top 50.
Generally, the higher your music is in the playlist - you can expect the stream count to be higher.
But you should also note that often times playlist followers like to hear hte playlist on shuffle.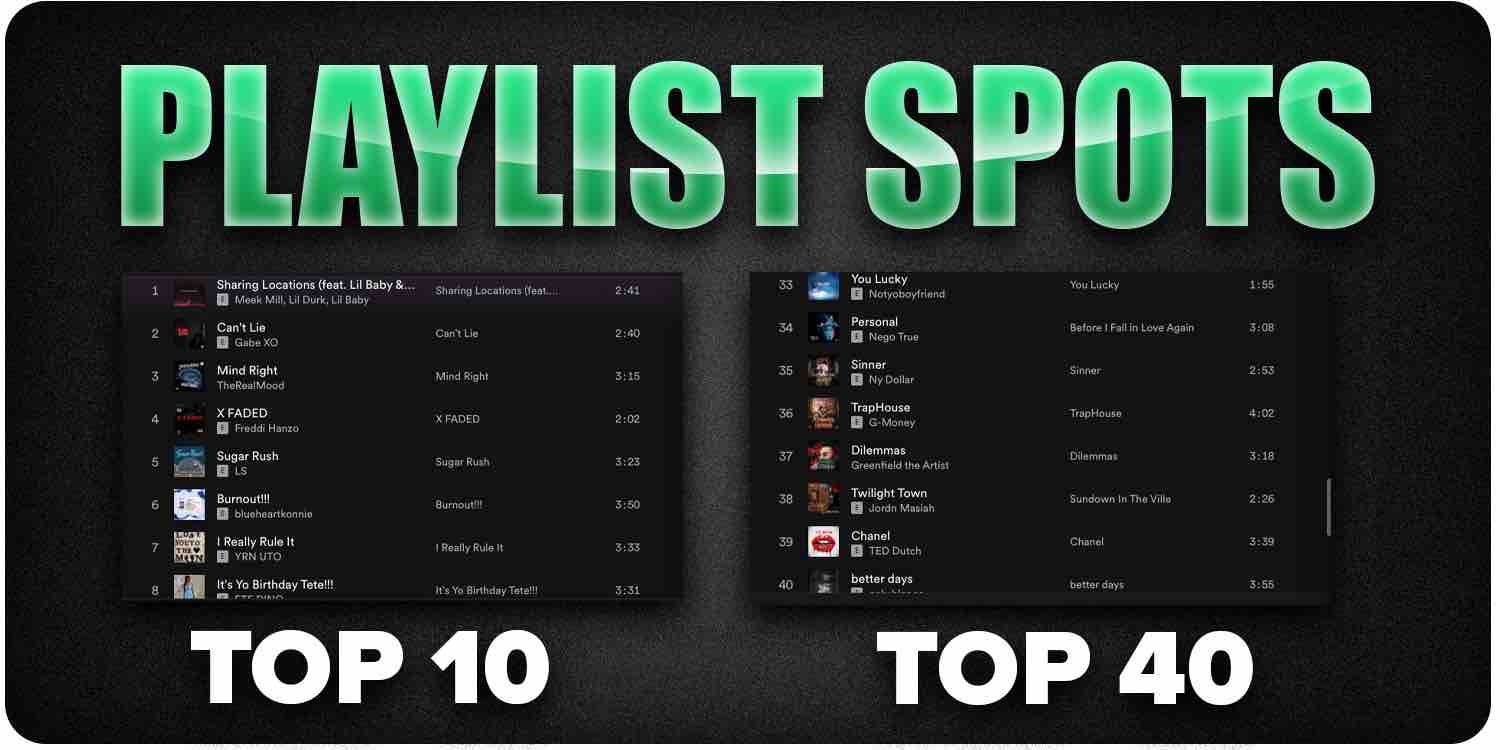 In this case then even if you get a top 10 feature... Your song may not pop off when the followers are listening.
Always best to strive for a top placement to get streams however as long as your tracks in the right playlists then half the work is already done for you.
The pitching services give you the option to choose where your song is going to be placed.
In this case, ensure that the services curators put your song somewhere near the top to get the full promo juice!
What's better: Spotify playlist based on Genre or Mood?
One of the biggest questions about the Spotify playlist placement is which style of playlist is better.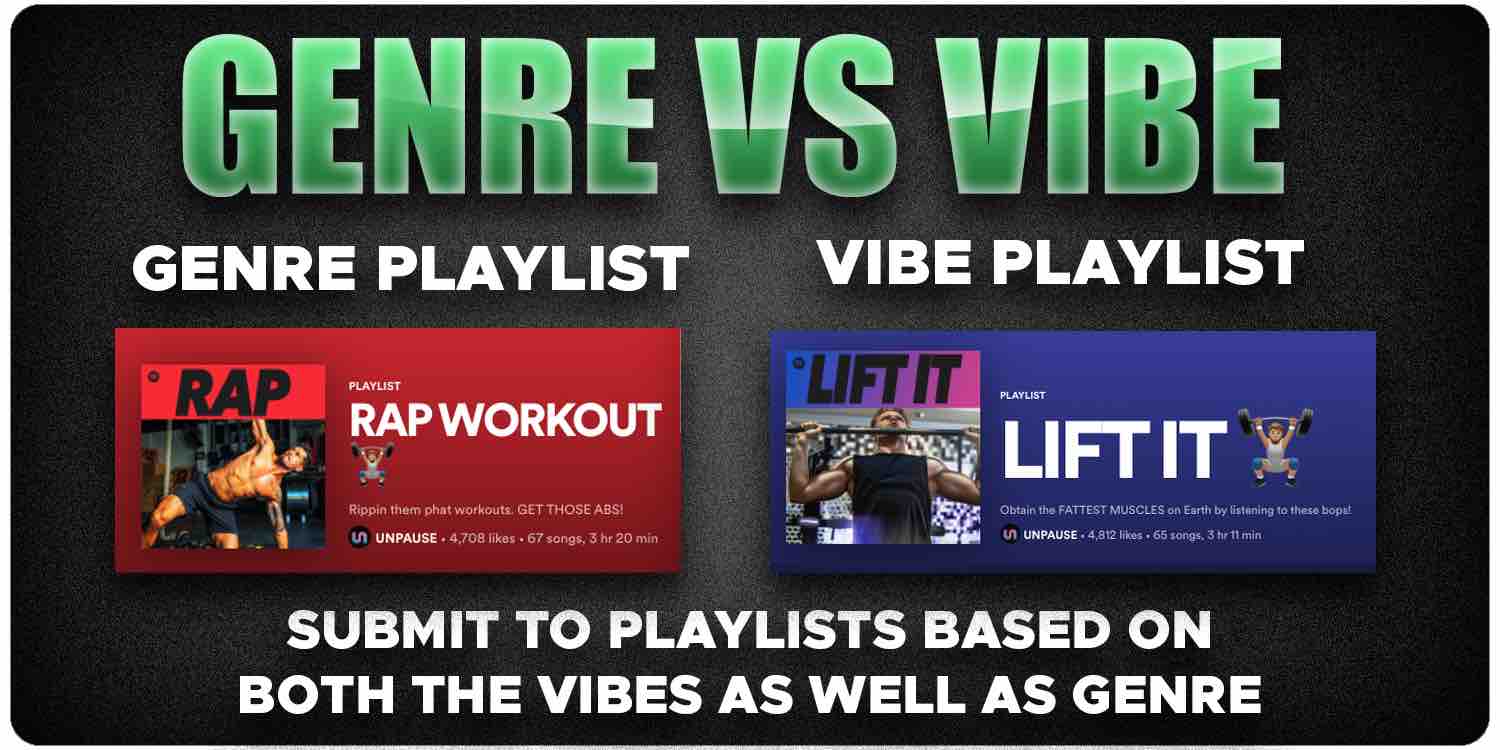 Should you submit your track to a genre playlist (example: hip-hop hype)
Or are you better off getting into a mood Spotify playlist placement
(example: Epic basketball bangers.)
In the end, it doesn't really matter which music promotion method you choose.
So long as the Spotify promotion is legitimate and your music is good and you'll see success in both avenues.
Just make sure that the other artists and that playlist placement are similar to you.
This is important for Spotify to indexed your songs and helps promote you through their algorithm playlists.
Try different Spotify promotion services
I urge you to try multiple Spotify promotion services!
Where is playlist push, daily playlists, submithub, etc.
These Spotify promotion service help independent artists get onto other playlists on Spotify.
Just note that they are not all equal.
Some of these pitching services can help you reach a wider audience of other playlists, where are some services focus more on the quality of playlist.
Your most solid option for Spotify promotion to reach both a wide audience and consistent streams is Boost Collective.
Submit the track and they can help promote it instantly.
Below to get your song more streams and new listeners on Spotify today! 👇

YOUR NEXT STEPS!
Music success doesn't come easy.
Except it can be managed easier, with Boost Collective!
Whether you want:
Curious about our campaign results?
We'd love to share some with you.
Check out Boost Collective reviews - see how we can help your music career below👇